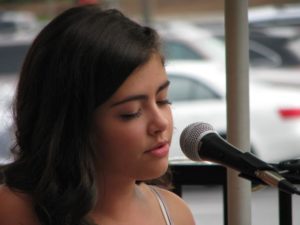 There is a lot of excitement surrounding our student, Isabel Gonzalez, and her recent audition on American Idol.  She "wowed" the judges and received feedback that is equally as impressive as her audition.  Nicki Minaj told Isabel that her audition was "effortless" and that she's a "natural." Keith Urban praised our 17 year old student for walking out with confidence to perform in front of them. And we all love Mariah Carey's quote, "You are so adorable. People are going to fall in love with you, because you are a star." These music industry heavy-hitters were instantly head-over-heels for Isabel. So, the question remains, what did she do to get there?
In our time working with Isabel, we have observed 4 distinct habits that will serve as encouragement for all students:
Every student can learn from Isabel's example as beautifully stated by Jeanette Simpson, Isabel's former vocal instructor who helped her discover her talent: "Hard work fueled by passion and dedication is what brought Isabel to the success and talent level she's at today. Every week she went above and beyond what I asked her to do. It helps that she has the unfailing support of her parents and family…but mostly hard work. Everyone has the potential for greatness but if we don't seek it out ourselves, it simply cannot be attained. She ran after it with everything she had."
Visit us on Facebook and Youtube to see the exciting things our music students are doing!
 by Allison J Boyd, President of Metro Music Makers