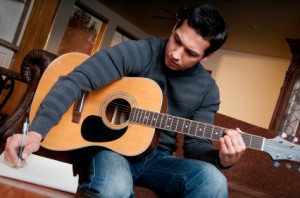 Are you interested in writing your own songs but don't know how to begin? These simple tips from our instructor, Ann Von Uffel, can help you get started with your songwriting.
1) Start with an Idea. Ideas can come to you at the most random moments. You can be brushing your teeth, driving in your car, talking with a friend, or running on the treadmill…and voila! When these moments happen, bask in the glory and then write it down.  I can't tell you how many great ideas I have sent to the wind because I was too hurried to write it down.
2) Take it to the Piano–> or whatever instrument you play!  Meshing the music with your lyrics is the most important part of songwriting. How do you want your song to sound? Is it happy, sad or humorous? Is it primarily major or minor, or both? Don't worry so much about which genre your song should fit into. Write from the heart, and the song will unfold in time.
3) Get Organized.  It's so important to keep documents of your lyrics & chord progressions. It's important to keep written copies & recordings so that a) no one can steal yours ideas later on and b) you always have them in case you forget them! Over time your songwriting catalogue will grow. If you start off with a good system, you will never have trouble later on.
4) Get Inspired.  It's hard to get inspired when you are constantly moving. Take time to slow down, notice the little things, and seek gratitude. Being open to inspiration is the first step to getting inspired!
Happy songwriting!
contributed by Ann Von Uffel, piano/voice instructor and songwriter, ann@metromusicmakers.com
Ann Von Uffel received her music degree from Georgia State University in 2010. She has been teaching piano and voice since 2007 and joined the Metro Music Makers team in 2010. Ann performs her original music regularly in the metro Atlanta area. For updates on her shows, follow her on Twitter @uffelnan.
Fun Facts about Miss Ann:
"I am inspired by all types of music." She's currently listening to lots of country music (aka Miranda Lambert and Brad Paisley).
One of Miss Ann's secret hobbies is playing with make-up. She loves trying on new colors and coming up with new looks.