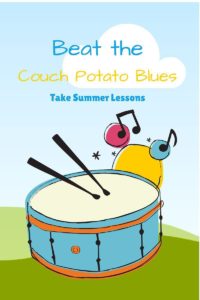 We LOVE our summer lessons for many reasons, and here are just a few:
1. Beat the Couch Potato Blues – Worried about your kids watching too much TV or playing too many video games over the summer break? Research has proven that learning an instrument engages many different parts of the brain. Not only are music lessons a creative outlet, but they also help to improve literacy and quantitative reasoning – a no-brainer, right?!
2. No Pressure – The kids are out of school! That means no homework, projects, tests or mandatory after-school activities. Students keep up their skill and learn new music without the added pressures of the school year.
3. Fun and Motivating – Summer is the time for students to break from routine and learn music of their choice, whether it be a song they heard on the radio, a challenging classical piece, or composing their own original music.
4. Time for Something New – Many of our students show interest in learning an additional instrument during the school year. Summer is the best time to try out a new instrument or two. It's also a great time to try a longer lesson for students who desire more time learning their music.
5. No Backtracking – When students take a full summer break from their instruments, it only means one thing – time to backtrack in the fall! Everyone knows that saying, "If you don't use it, you lose it." This is true in all disciplines, including learning how to play an instrument. Instead of backtracking for the first month or two in the fall, our students can use their summer music lessons to keep making progress.
Contact us directly at 678-637-7293 or info@metromusicmakers.com to confirm your summer lessons starting this June!