At Metro Music Makers, we know that what we do doesn't happen in a vacuum. We're part of a larger arts community in Metro Atlanta and all over Georgia, and our local non-profit arts organizations give us and our students so many wonderful opportunities to experience, perform and appreciate music. So, imagine our excitement when we began to see billboards advertising a new Georgia specialty plate that benefits the Georgia Council for the Arts, a wonderful organization that awards grants to non-profit arts organizations across seven regions in our state!
The plate will look like this: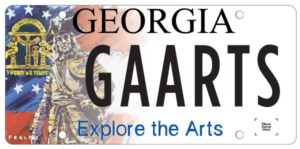 The artwork for the plate, created by local artist Steve Penley, features General James Oglethorpe, an explorer and abolitionist who helped settle and establish Georgia in its early days as a colony. Thus the plate's featured slogan: Explore the Arts.
Production for this plate will begin once 1000 reservations have been made. Interested in reserving an arts specialty plate for yourself? You can reserve one online here, or you can make your reservation via snail mail by following the instructions here. You can reserve the plate for $25, which goes toward the total cost of the plate which is $80 (not including any individual ad valorem taxes). $10 of each tag purchase goes directly to the GCA.
Want to learn more about the Georgia Council for the Arts or the new plate? You can check it out on their site.