written by J.T. Lee, instructor at Metro Music Makers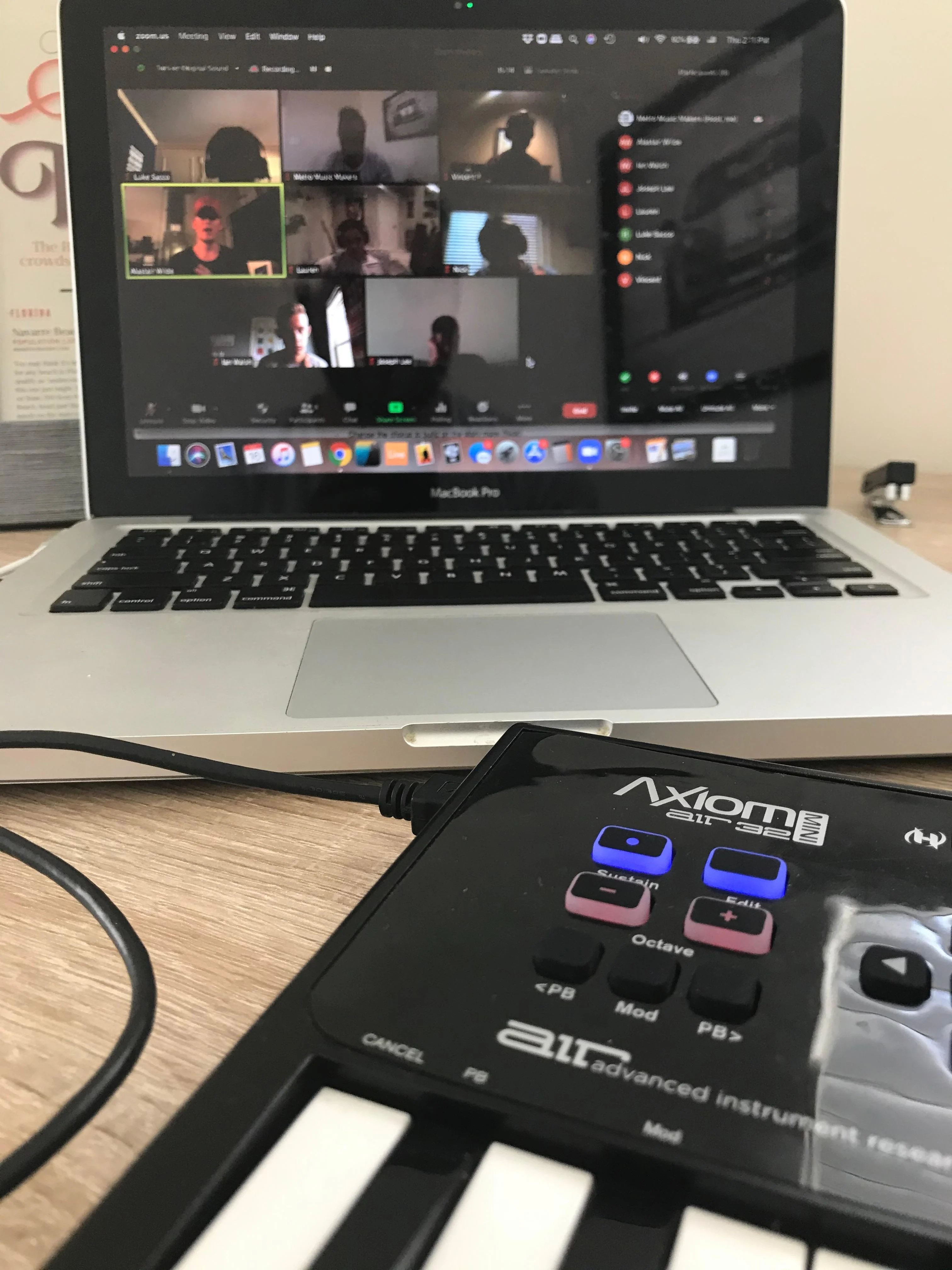 A couple of months ago, I wrote a blog about some of the benefits I've observed while teaching online music lessons. Along with the many lessons that I've taught over the course of this last year (around 1,700 or so), I've also been able to teach several online group classes. Through the year, I've converted both a school concert band and a Rock Band program to online, and I am currently teaching an in-home recording/production class and a songwriting class. Moving classes online does bring unique challenges for teachers, but fellow instructor Mark Grundhoefer and I have been able to put together some highly effective group music classes. In addition to teaching students, these classes have conquered the seemingly impossible task of maintaining community for our students through the COVID-19 pandemic. Let's take a look at each one!
In-home Recording/Production
A more accurate name for this class might be modern composition. Due to the availability of cheap and free recording software (or DAWs), it is easier than ever for students to begin producing their own original music. The problem is that when you first open the software, it can be a little intimidating to navigate. In the beginners class, we learn how to navigate and operate the software in order for students to use it to produce their own music. Students use free software like GarageBand and Ableton to begin making music. By the end of the first course, students are able to create and produce an original song in their own preferred style of music, but that's not the only benefit we've seen from the class.
Students enrolled in the class seem to gain a far deeper understanding of theory and rhythm. Students realize the purpose behind their theory books as they start to apply them in new and creative ways. I even logged in for a lesson a few weeks ago to find my student practicing scales, and the crazy thing is, I didn't even ask him to!
Our young producers are also building friendships that will last even after the course ends. Students are encouraged to work together, to give constructive criticism, and to learn to hear the same from others. They are able to begin building a professional network that they can carry well beyond our courses. Many of our students have gone on to enroll in our Recording/Production II course, currently in progress.
Want to see what our kids are doing? Check this out:
Songwriting
Our songwriting classes mirror our production classes in that they are a more modern take on composition, but unlike the production classes, they focus more on lyrical and melodic development for the students. Students study different songwriting styles to help them find their voice as a writer. Students in the class can usually hold down a few chords on their instrument, and they have to present a finished song at the end of the class. "What if my student doesn't sing?" you may ask. This class is not about vocal ability, but is more focused on getting students to the point with a song that they are comfortable presenting a rough draft. They're not expected to be all-star singers, just to sing well enough to get their ideas across. We also bring in a few guest speakers from time to time to share their own songwriting tips and tricks with the students. It never helps to get a little extra help from the professionals getting paid to do it!
Many of the students in this class have found a new love for writing, journaling and thinking deeply about the world around them. They have also taken up a new love for their instrument in hopes of learning new tricks to better their songs—or in many cases, wanting to get their ideas out. Students have also found a new sense of community with the other artists as they bounce ideas off of each other and talk back and forth to develop new songs. Students develop lasting, creative relationships as they work together to craft songs! Students who complete the first course are also invited to join Songwriting II, where they go even deeper into their study of the craft.
Just how were the songs? Check this out:
Rock Band and other ensembles
Rock Band, along with our other ensembles, was probably the trickiest thing to maintain during quarantine, and I think we've made it even better than we could have ever imagined. The classes started as a traditional bands with weekly rehearsals. They turned into something even more fun. Groups meet online weekly to work out details on the predetermined setlists. Each student is then expected to work on their individual parts on their own. They present in front of the class and receive help for each song. Then at the end, the whole group comes together to record, and then they produce a music video of the songs. This model has worked so well for a number of reasons.
First of all, recordings never lie. Our performers have had to hear their own raw, unedited performances and have since gained a real perspective of how their playing is perceived. They are forced to work songs to a level that they never had to before, and they can't rely on the player next to them to maintain quality or to play the parts for them.
They learn to be responsible for their part of the group, and what it takes to not let the team down. Students also get to walk away knowing that they've been able to truly accomplish playing a real song to a new level. Again—and I can't stress enough—students gain community, friendships and relationships that go well beyond a sports team or single concerts. Students gain friendships that will last forever, and even when the rest of the world is isolated, these kids are still making music.
Click here to see our latest Rock Band video!
Music as a constant
Even when their schools closed down, we were able to keep the art programs running, and the students truly loved and benefited from it. We kept their musical ability growing, and in many cases, even took them to a higher level than they could have gained during normal school times. Students in all classes have been exposed to professional skill sets that most musicians never learn before college. (Our younger class students start as early as 5th grade!) Many students have even continued on to our advanced classes, which go even deeper by focusing on co-writing and group producing. In our online classes, we've gone above and beyond to not just react to the current situation, but to innovate. We've innovated music education in a way that can take our students to the next level, producing a higher quality musician equipped with the skills to achieve their creative potential.
Interested in being a part of one of our classes? Click here to sign up!