Written by Connor Grimes (MT-BC Pending)
Background
During my time as an intern in the Fulton County Schools, I had the opportunity to work with a wide range of unique clients that I had not yet served. These clients' ages ranged from 3-22 years old and had a variety of intellectual and developmental delays, each with its own spectrum of severity. I found it challenging to continuously create group interventions and objectives in order to constructively involve each student among this wide range of needs. When working with individuals with severe and profound diagnoses, I discovered just how vastly different their needs may be than their peers with moderate/mild diagnoses. Students with severe and profound diagnoses often need more sensory and proprioceptive-based interventions. Music therapy for these clients may involve more constant tactile, audible and motor stimulation than their peers. It may be difficult to maintain constant stimulation and attention during turn-taking activities that require multi-step task completion. It is important at these times to adapt activities to ensure each student has the opportunity not just for participation, but also for success.
Music Therapy in Schools
Music therapy has been a part of special education for decades, working with students with an enormous spectrum of diagnoses, strengths and needs. Music therapists serve students to target a range of physical, educational, cognitive and emotional goals, using music as their tool. Music therapists often work alongside, or collaborate with, other members of the special education team, such as speech language pathologists, physical therapists, occupational therapists and other art therapists. Music therapists bring their expertise to this team by offering knowledge of how music can positively influence individuals mentally and even physically. Music therapists may also offer an unbiased assessment and creation of an effective treatment plan (for groups and/or individuals) with specific goals and objectives to address during music therapy sessions.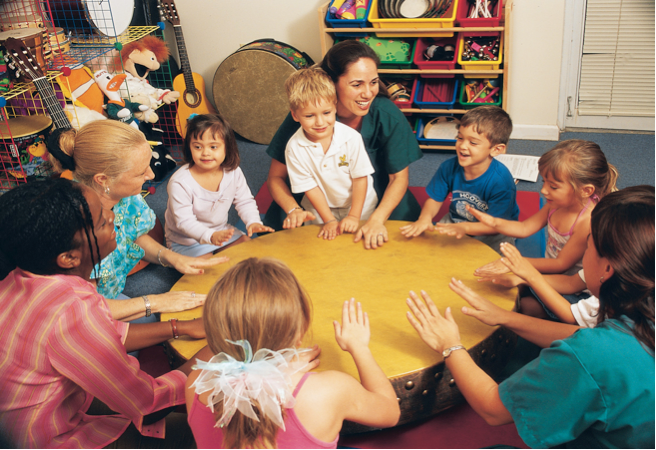 Music Therapy in the Public School Setting
In public schools, music therapists most often see groups (special education classes), but may also work with individual students. Group sizes typically range from 6-14 students on average, and session duration can vary based upon the class age and frequency of treatment. For example, preschool and kindergarten classes (that are seen once a week) should be no longer than 30 minutes, older elementary and middle school classes can be around 45 minutes, and high-school/young adults can usually participate in a one-hour music therapy session. Music therapy sessions are typically fast paced in order to maintain the attention of the group and keep each member engaged with the music therapist, as well as their peers. These sessions will usually include multiple interventions, each created to address a specific goal from the students' Individualized Education Plans (IEP).
Common Goals Among Age Groups
Pre-school/Kindergarten
Identify colors, numbers, letters, shapes
Form sentences/make verbal requests
Accurately compare/contrast/group items
Elementary
Use addition/subtraction, multiplication/division
Recall sequences
Enhance expressive and receptive communication
High School/ Young Adults
Initiate peer-interaction/maintaining relationships
Self-care (laundry, hygiene, cooking)
Use money for purchases (exchange, finance, etc.)
Music Therapy with Varying Diagnoses
In school settings, groups are often composed of students that have widely varying strengths, needs and diagnoses. A single classroom could contain students diagnosed with mild to moderate intellectual disorders, as well as students with severe to profound developmental delays. Therefore, it is important to include a variety of interventions when planning for group sessions. Studies have reviewed how music therapists facilitate sessions and prioritize different goals and domains with different degrees of diagnoses. For example, individuals with a moderate to mild autism spectrum diagnosis are more likely to focus on social and behavioral goals in music therapy sessions. Those with severe and profound diagnoses are more likely to work on physical and communication skills in music therapy. In order to address everyone's needs at the same time, it is important that each student is participating with the group, but is also being challenged with the material presented.
Example: You are working with a special education classroom with a variety of diagnoses, ranging from moderate to severe autism to severe to profound cerebral palsy. The students are going to have a different set of strengths and needs, therefore all interventions must be able to be adapted to provide each student the opportunity to succeed. If the group is working on telling time on an analog clock, some students may be able to position the hands on the clock to create the time requested. However, some students may not posses these fine motor skills. Students with severe and profound diagnoses may benefit from a different visual for this activity (see visuals below.) As music therapists, each of these activities is facilitated with music-based interventions. For this specific intervention, I use a rap with a hip-hop instrumental in the background. The lyrics are as follows:
Tick- Tock (by Roy Joyner, MT-BC)
Tik-Tok, hands on the clock,
This is a rhyme about telling time.
The little hand has a lot of power,
When his friends on the 12, he tells the hour.
Tik-Tok, hands on the clock,
This is a rhyme about telling time.
The clock is a face and the hand spins in it,
But only the big hand can tell you the minute.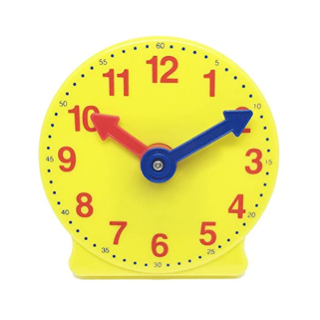 Students with mild to moderate diagnoses and sufficient fine motor skills would use a clock like this with adjustable hands to recreate the time requested by the music therapist.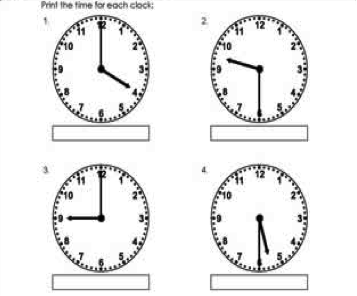 Students with severe to profound diagnoses who struggle with their fine motor skills may use a visual like this. The music therapist may also have another visual with a matching time. (E.g., the music therapist will ask the student to identify the clock showing 6:00, and the student may identify by pointing or using eye gaze.)
For this activity, the music therapist will sing through the rap and prompt students one at a time to either recreate or identify the time requested. Using visuals like this makes it easier for non-verbal students to point to identify/answer questions, as well as help students use addition/subtraction or round up to the nearest dollar. For students with speech and or language disorders, having visuals can immensely assist their receptive and expressive communication skills.
Severe and Profound Diagnoses
Researchers believe that music has a positive role in "health promotion, quality of life, physical and mental wellbeing. People use self-selected music in their everyday lives to regulate and control mental states and attention." (Luca 2018) Luca also refers to several other articles that conclude that music decreases anxiety and pain, while increasing on-task performance, emotional life and sense of belonging. Receptive music therapy experiences engage the client in music listening. Since listening to music can positively affect our bodies at physical, emotional and/or cognitive levels, receptive music therapy experiences can be ideal for individuals with severe and profound disabilities due to the non-verbal elements of self-expression and communication. Later on, Luca discusses the theory of embodied music cognition., allowing for a new understanding of cognitive processes of non-verbal clients. By recording and analyzing their movements during the music listening experiences, music therapists may develop a "deeper understanding of their cognitive process, learning and memory functions, circles of anticipation and satisfaction, and errors in their predictions." (Luca 2018)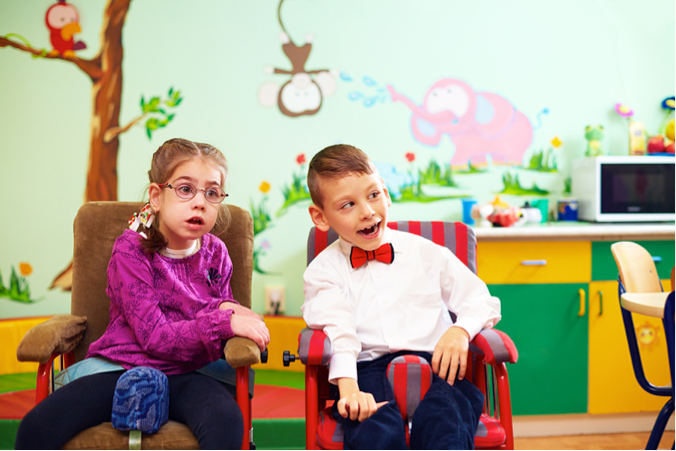 These non-verbal communication skills (as well as social skills) may translate to their communication skills outside of music therapy sessions as well. Learning communicative gestures in music therapy may assist the clients when attempting to communicate with staff, family, friends or other peers. Clients that have more severe diagnoses may focus more on one-on-one communication with their music therapist. Luca says that the "communication within a group of nonverbal individuals is usually translated into words by different devices or verbal people translate their gestures and intentions." She states that this method can provide opportunities for communication between people with less mediation. For this reason, Luca believes that music therapy interventions may provide these individuals a "sense of togetherness" and may increase their levels of self-esteem, and desire to communicate. (Luca, 2018).
Self-esteem plays a large role in social interactions and social skills. However, individuals with severe and profound intellectual and developmental delays struggle with communication, making socializing a challenge. Due to their communicative difficulties, they may be subject to social isolation. Research has shown a statistically significant link between social interaction and overall quality of life. (Johnels and Rådemark, 2016) A study by Johnels and Rådemark observed the social interactive behaviors of individuals with profound intellectual disabilities and the staff and family members. This was facilitated through self-reflective music therapy interventions. Participants "reflected upon their own behaviors (in terms of vitality and timing, attentiveness, interpretation and own adjustments of communicative expression.)" Upon reflections, several themes remained consistent among participant feedback, including the perceived value of developing a professional language to engage in social interactions, and scaffolding activities for interaction. Several participants also noted that music therapy is an "important activity for supporting high-quality social interaction." Music therapy interventions with groups and individuals with severe and profound developmental and intellectual disabilities may promote verbal and nonverbal communication through a variety of music-based interventions. Promoting social interactions among these individuals is integral to the development of both social and communication skills. These skills addressed in music therapy may be used in their every day lives when interacting with friends, family, staff and other peers.
Conclusion
The use of music therapy in special education classrooms with severe to profound diagnoses addresses cognitive, physical, behavioral, communicative and social domains. In music therapy sessions, these students have opportunities to thrive and to create and maintain relationships with their peers as well as the staff. Music therapy also provides outlets of self-expression and non-verbal communication that otherwise may not be available to them throughout a regular school day. The use of music therapy will vary greatly depending on the groups' age, diagnoses and severity. Each group, however, should be approached on a case-to-case basis, rather than being treated on the typical strengths and needs associated with their diagnoses. Assessment of clients is absolutely necessary in order to observe where individuals excel and what primary areas of need should be addressed through music therapy treatment. Once complete, the music therapist will be able to create specific goals and objectives for each group or individual client. Music therapy groups with individuals with severe and profound disabilities may be integrated with individuals with mild to moderate diagnoses, especially in school settings. Individuals with mild to moderate diagnoses will more often focus on social and behavioral skills in music therapy. However, music therapy with individuals with severe and profound diagnoses needs often fall under the physical and communication domains. For this reason, it is important to include a variety of interventions to address everyone's needs in group therapy settings. Music therapy has a positive role in quality of life, physical and mental wellbeing. Music therapy sessions may provide opportunities for self-expression, social interaction, physical movement and communication for individuals with severe and profound intellectual and developmental disabilities and delays.
References:
Johnels, Jakob & Johnels, Linn & Rådemark, Carina. (2016). Fostering high-quality social interaction together with individuals with profound intellectual disability. Nordic Journal of Music Therapy. 25. 118-119. 10.1080/08098131.2016.1180210.
Luca, T. (2018). Therapeutic Application of The Kokas-Method in Music Therapy for People with Severe Disabilities. Journal of Russian & East European Psychology, 55(1), 85–105. doi: 10.1080/10610405.2018.1491241