By Metro Music Makers music therapist Kristen Van Dyke, MT-BC
*Note: The goal of this blog series discussing music therapy interventions is to give more information about the field of music therapy and what a music therapist does. For the safety of all those involved, only a licensed, board-certified music therapist should carry out these interventions. However, at the end of each blog, there will be a suggestion of how the benefits of the intervention may be carried out at home in a safe way.
The integration of art and music is a natural partnership. Both of these creative mediums allow for storytelling and expression. Listening to music plays a key role in music therapy. Drawing to music can be an excellent music therapy intervention that also brings in a visual art component.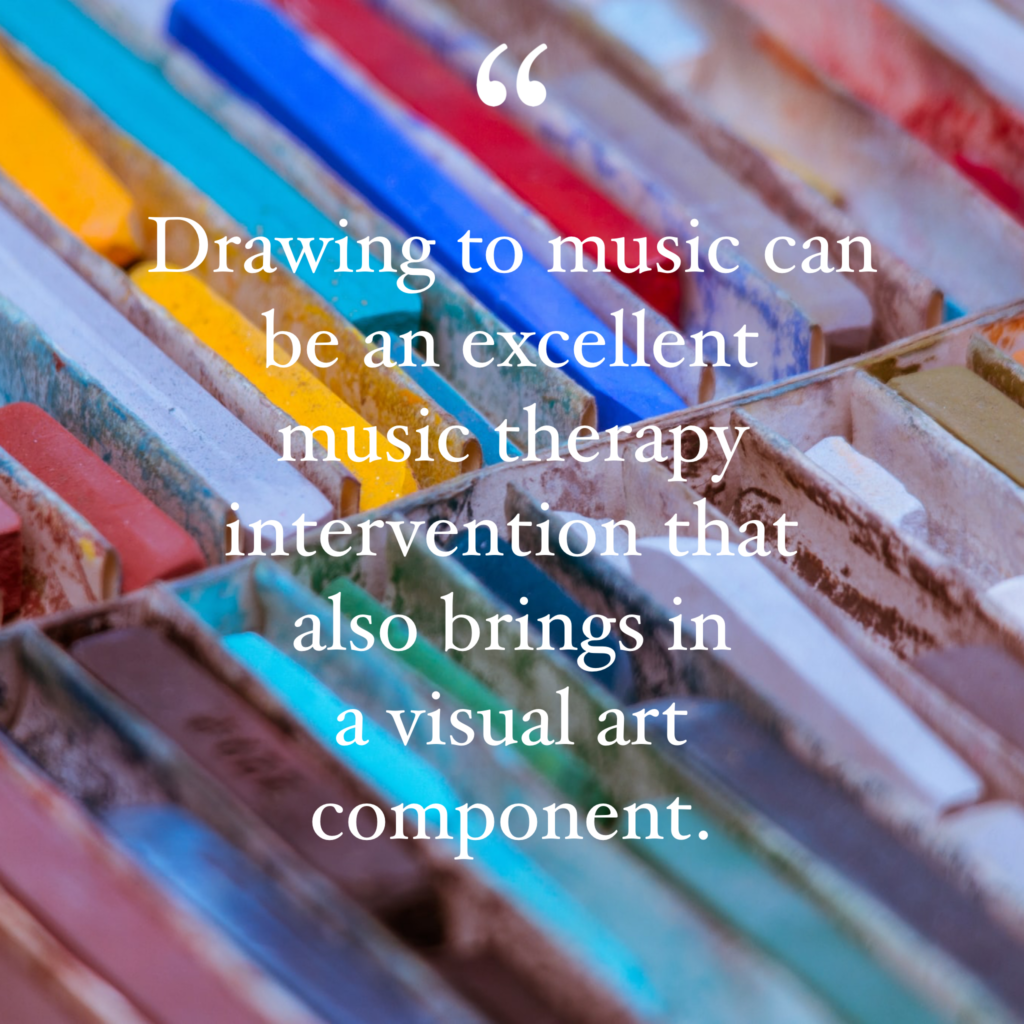 In a music therapy session when a client is drawing to music, songs are specifically chosen by the music therapist depending on the goals and objectives for the client. Instrumental music or music with lyrics may be used at the discretion of the therapist. Instrumental music is primarily chosen so that lyrics do not influence the client's image. However, songs with lyrics can be a great way to evoke imagery as well. Song suggestions include, but are not limited to the following: 
Prelude to the Afternoon of a Faun – Claude Debussy
River Flows in You – Yiruma
Carnival of Animals, Finale – Camille Saint-Sans
The Planets, Jupiter – Gustav Holst
Enchanted Suite from Enchanted – Alan Menken
Dead and Gone – T.I. feat. Justin Timberlake
Human – Christina Perri
The Middle – Jimmy Eat World
Music therapists often have multiple colors of paper and chalk pastels available. Utensils such as colored pencils, markers, etc. may be used; however, perfectionism can easily come into play with detail-oriented tools. The chalk pastels force clients to be flexible and not as focused on making sure every detail is perfect. As the music is playing, the client is encouraged to draw any images that music evokes. It may just be colors or shapes, or it may be a specific scene/story. At the completion of the song, the music therapist engages the client in guided discussion about the images they created. Therapists are trained to lead discussions with an open-ended line of questioning so that their language does not lead the client to respond in a specific way. Therapists also use their training to look at the pictures and search for signs of symbolism. Oftentimes, clients are not able to verbalize deep emotions or thoughts they are feeling, but their images can give clues.
Try it At Home!
If you have family members at home that love to create art, you can try a version of this with your family!
Gather some colored construction paper and favorite art supplies.
Pick out a song (see suggestions above).
Play the song and encourage all family members to draw a picture related to how the music makes you feel or the images it creates.
After the song is over, lead a discussion about the pictures:
Tell me about your drawing. Why did you choose those colors? If you could pick one word to describe the emotion of this picture, what would it be? What parts of the music led you to draw that? If you had to title this picture, what would it be?
Enjoy combining the two creative mediums of art and music!