by Metro Music Makers instructor Mark Grundhoefer
Summer is (almost) here!
It's already been a busy spring, and I know the students, and even teachers, of Metro Music Makers are looking forward to some much needed rest and relaxation. So take some time for yourself, hit the beach, go on a road trip, hike in the mountains, or simply binge watch your favorite show. But don't take a vacation from your music! Here are four tips to help you get the most out of your summer while still working on your music.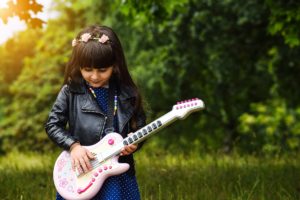 1) Take Lessons
Okay, this one's obvious. But here's the perfect opportunity for you to take full advantage of music lessons because you (and your teacher) have more time available. Up your 30 minute lesson to 45. Ask your teacher to spend a full month on songwriting. Learn some digital recording software like GarageBand. Take a few singing lessons. The sky's the limit! Email us today to modify or add lessons!
2) Online Lessons
If you aren't already aware, Metro Music Makers offers online lessons. Spending the summer at the beach? Take your guitar and a laptop/tablet and meet with a teacher hundreds of miles away. Flexible hours and availability make this a perfect summer solution. And you'd be surprised how effective face to face online lessons can be.
3) Rock Band Camp
If you've ever enjoyed playing a song together with your teacher, imagine doing it with four or five other students in a full band setting. Rock Band Camp puts groups of students together to learn a handful of songs, work on stage presence, play new instruments, and even write songs. Name your band, make a logo, and get ready to put on a full stage show. Register now for Rock Band Camp June 3-7.
4) Musical Theatre Camp
A lot of students learn songs from famous musicals and perform them at recitals. Now it's time to put your singing AND acting chops together as you spend a week exploring an original script. You'll learn music, dialogue, choreography, set design and more in this immersive theater experience. Register now for Musical Theatre Camp July 29-August 2.
If you're going on vacation for an extended period of time, find a great book on music theory, technique, the music business, or any other musical endeavor you're interested in. Your teacher would be happy to recommend something. And don't forget to load up your MP3 player with some new music for the car ride! Happy summer!