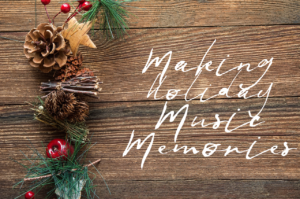 written by Kristen Van Dyke, MT-BC
For many families, the holiday season is filled with so many rich, meaningful traditions. Who doesn't love going to tree-lighting ceremonies, baking Christmas cookies, or reading The Night Before Christmas every Christmas Eve? In my family, music always played a significant role in our holiday celebrations. My favorite bin to unpack on decorating day was the bin that held the Christmas cassette tapes and CDs (that's how we used to listen to music for all you kids out there!). In true teacher-Kristen fashion, I always volunteered to organize the CDs alphabetically or by genre of music. As I am writing this, I can hear Neil Diamond's version of "Santa Claus Is Coming to Town" in my head (a family favorite).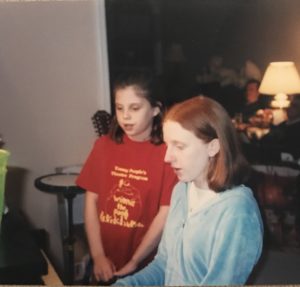 Music holds such power to make memories and bring back images, smells, tears and smiles to our hearts and minds. Holiday music in particular seems to have some extra magic in uniting everyone from families to strangers of all ages. As part of the music therapy team here at Metro Music Makers, I have the privilege of facilitating music therapy groups at senior facilities. I have seen firsthand the power that music has to bring a person back to a different time and create a bond. There's really nothing like a group of people singing together.
I recently asked a group of people what some of their favorite holiday traditions are involving music. I have compiled a list of some ways to incorporate music into your holiday traditions. I encourage you to try out a new one this year and include the whole family, young and old!
If someone in your family plays piano or another instrument, have a family sing-along. Families with multiple singers can even add in some harmony!

If there are kids in your family that take music lessons or dance lessons, put on a holiday program for the whole family. My sister and I did this every year, and we would choose songs to sing and play, in addition to a hilarious "interpretive dance" of a popular Christmas song.

Have a Christmas pajama dance party to your favorite tunes.

Before someone opens a present, make them sing part of a Christmas song.

Take a family field trip to go see The Nutcracker or another holiday performance.

Plan a caroling night for your neighborhood.

Compose your own Christmas song by using a holiday Mad Libs template (found

here

) or creating your own lyrics.

Take toy instruments, kazoos, or items from the dollar store that can make some noise and play a silly version of "Name That Holiday Tune."

Check out Pinterest for some fun Christmas song games.
Please share with us in the comments below how music plays a role in your holiday celebrations. Wishing you and your family a wonderful holiday season!