Written by Metro Music Makers instructor  J.T. Lee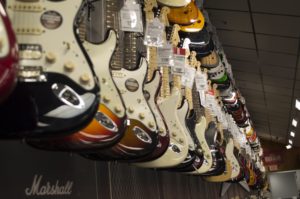 Purchasing a guitar can seem like a daunting task, given the vast amounts of equipment, brands and choices out there. I remember the year after I graduated college, working in a guitar shop and seeing the stressed-out faces of customers trying to find the best instrument for their student. I've also seen a number of students run into trouble and end up quitting simply because something just didn't feel right. So how do you even begin to choose which guitar is right for your student? Here are a few questions to ask yourself that can help you find the perfect instrument.
1) Where will I go to shop for my guitar?
The first thing to decide is which store you plan to go into to do your shopping.  Notice I said you should go into a store. DO NOT order your first guitar online. It is always better to physically see an instrument before purchasing it. In the guitar world, there are a number of different body styles and neck ratios. You don't know how comfortable an instrument will feel until you actually try it out. Your first guitar purchase is one that requires going out and shopping. Amazon Prime just won't cut it for this one.
There are a number of stores that may suit your needs. I always say to try local or smaller shops first. You normally get better customer service, as well as a more knowledgeable staff. They will also spend more time with you in the selection process. The only trade-off may be a lack of selection at the store. If it's a large selection you want, there is always Guitar Center. While you may not get the extensive personal attention and knowledgeable staff of a smaller, local shop, GC has the largest available selection of any store and more available online. They can also have things shipped to the store for you to try. If you are looking for a good balance of selection and customer service, try Ken Stanton Music and Sam Ash. Both have a variety of lines and a great staff that can help you with your first purchase. They also have multiple locations in the Atlanta area.
2) What's my budget?
Purchasing a guitar worth playing will cost you at least $200 right out of the gate. Anything priced less than that is usually a toy. Be prepared to drop some cash on this. Usually the more you spend, the more playable the instrument is, meaning that it will be easier to learn on. Sure, you can purchase the old beaten-up guitar from the yard sale, but be ready to replace it in three months. It's better to spend a little more up front and have something that lasts than to pinch pennies, only to spend more down the road. It's similar to purchasing a car. You don't want to get your 16-year-old a Ferrari, but you want something that will last and keep them safe. So be ready to spend between $200-$500.
Side note: the right guitar actually grows in value after a number of years. Years ago, my father-in-law bought a Gibson Les Paul for under $100. That same guitar today goes for over $3,000, and he is still kicking himself for selling it. Some rare guitars are worth as much as $10,000.
3) Acoustic or electric?
There is an old wives' tale that everyone should start on acoustic. This is a traditional view, but not necessarily a hard truth. There are benefits to starting with either acoustic or electric.
Acoustics are good because they don't need an amp, and you can play it anywhere—no electricity required. At first, they may be harder to play than an electric guitar. Because of the way they are engineered and the types of strings they use, they require a little more finger strength. This means students will build up hand strength faster. The only other major downside is the price. A decent acoustic usually costs more than an electric. Also, unless you are planning on playing classical guitar, make sure you get a steel string acoustic, not a nylon one. For the style that most students want to play, you will need steel strings.
Electrics, on the other hand, are easier to play at first, and may even be cheaper. Some can be purchased for as little as $150, but that's only the guitar. Unfortunately, they also require an amp and cables to project the sound. Most music stores sell starter bundles that come with everything you need for around $200. If you purchase one of these bundles, however, be aware that you may need to upgrade eventually.
Whether you buy acoustic or electric, go ahead and buy a strap, a tuner and picks when you purchase the instrument. This will be enough to get you started in the first lesson.
4) What size is the student?
Depending on the age and size of the student, they may or may not be ready for a full-sized guitar. Luckily there are a number of small-scale guitars. The most important consideration is that the student feels comfortable. Can they reach over the body? Can they reach the first fret on the low E string? How does the neck feel in their hand? Are the strings somewhat easy to press down? A dear friend and mentor of mine once said that when looking for a guitar, the most important thing is how it feels, because a number of things can be done to change the sound. Also keep in mind that students grow. If they are nearly fully grown, depending on their age, it may make sense to go ahead and get a full-sized guitar.
5) Which brands can I trust?
Which brands can you rely on to make a high-quality beginner guitar? It depends what you're looking for. For an acoustic, the best bet is an entry-level Taylor. They're hard to beat for the price. Martin and Gibson are also tried and true brands, but they can both be a little pricier. For starter brands that are still good quality, Alvarez is a great choice. Seagulls and some Luna and Yamaha guitars are decent too. Also, every once in a while you can find a good intro guitar made by Fender.
On the flip side, when it comes to electrics, Fenders and Gibsons are an excellent choice. They also own export companies that make starter guitars. Fender owns the Squire brand, and Gibson owns a company called Epiphone. Of the two, Epiphones tend to be a little better made. LTD guitars are also great starters. If you want to go a little higher quality, check out G&L guitars.
Buying a guitar can be scary—much like buying a car—but buying well up front can create a better overall musical experience. Not cutting corners can actually be the difference between a student staying excited about guitar lessons and the student burning out and quitting. People often continue if they enjoy the instrument they are playing. Take time before you start and ask yourself these questions. Also, if you're not sure,ask an instructor. We are here to teach you everything about music, including the process of purchasing. We are here to help in any way we can!