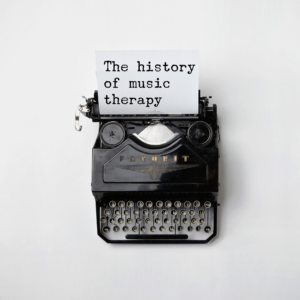 written by Kristen Van Dyke, LPMT, MT-BC
It is 2018 and music therapists still get asked on a regular basis, "What exactly is music therapy?" It is, of course, one of my favorite questions to get asked because I get to share about music therapy and what music therapists do! Two of the other questions that usually accompany this conversation are "How long have music therapists been around?" or "Is this a new profession?" I am going to share with you a brief history of the field of music therapy and how it is still growing today!
Historians have found that even the earliest preliterate societies used music for healing in their culture. A certain type of music was prescribed by the "medicine man" in a healing ceremony depending on the illness or disease. As civilizations began to form, music was very much a part of the healing rituals. For example, in ancient Greece, "music was regarded as a special force over thought, emotion, and physical health" (Davis et. al, 2008).
By the time the Renaissance period began and into the Baroque period, music was being used as a remedy for sadness and mental illness and was prescribed by physicians as preventative medicine to enhance emotional health. By the late 18th century, a definite shift was occurring that was bringing an increased emphasis on scientific medicine, as opposed to illness being tied to supernatural or religious forces.
The earliest reference to music therapy in the United States occurred right around this time in 1789. An anonymous author published an article stating the case for using music to "influence and regulate emotional conditions" (Davis et. al, 2008). In the 19th and early 20th century, music therapy continued to be recognized in healthcare setting, always in conjunction with another therapy. The use of music therapy also began in educational institutions for persons with disabilities (i.e. schools for the deaf and blind, and for students with physical disabilities).
The first university to offer classes in music therapy was Columbia. Margaret Anderton prepared musicians to provide music therapy services to soldiers suffering from physical and mental disabilities during World War I. Veterans were a pivotal population in the early 1900s to pioneer the music therapy profession. In the 1920s, music made its way into hospitals all the way from operating rooms to recovery areas.
By the conclusion of WWII, the value of music therapy was known and widespread. It was being used in treatment of psychiatric disorders, veterans, medical diagnoses, and those with physical disabilities. Finally in 1950, the National Association for Music Therapy (NAMT) was formed. This helped to establish the profession, provide clinical training, and establish standards and procedures for certification of music therapists. In 1956, the Registered Music Therapist credential was established. This provided evidence to employers that the therapist had met the educational and clinical standards set by the NAMT. After some organizational changes, in 1985 a national Board Certification exam was implemented to strengthen the credibility of the profession. After completing a music therapy program at an approved university, obtaining the required amount of clinical experience hours, and passing the board certification exam, a professional will obtain the MT-BC (music therapist-board certified) credential.
While there has been much progress in the field of music therapy over the last few decades, there is still much work to be done. As I mentioned, as music therapists, we are constantly explaining the field and advocating for the numerous benefits of music therapy. Many facilities are able to fund positions or find grant funding, but the profession would like to see many more positions become available in the future.
Feel free to visit the American Music Therapy Association website www.musictherapy.org for more info, or e-mail me at kristenmt@metromusicmakers.com with any questions!