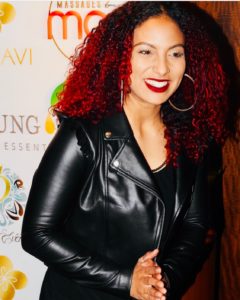 1) What do you teach at Metro Music Makers?
Violin and voice
2) Do you play any instruments beyond what you teach? If so, what?
I also play the drums and dabble on piano.
3) If you could only hear one song on repeat the rest of your life, what would it be, and why?
That is very hard because I love all genres of music, but if it was one song I would probably choose something from Whitney Houston—her songs are so timeless!
4) What is the best part about teaching?
The best part about teaching is seeing my students' growth and seeing them come out of their shell… using the breathing techniques and singing exercises and building their own confidence and sound from that. It's a wonderful experience to see them blossom! And also with my violin students, I love seeing them grow in their ability to sight-read music and also play by ear.
5) Do you play or sing somewhere regularly? 
Yes I just had my album (EP) release concert, and it was so much fun! I released my first album September of last year called Glimpse on iTunes, Apple Music, Spotify, Tidal, and Google Play, and I have been performing more since then. My next show will be at City Winery downtown in May. I also just released my music video called "Stop and Stare," which is on YouTube. To check out my music, search "Angelina Sherie Glimpse"on Google, and check out my website: www.angelinasherie.com.
6) If you could snap your fingers and get your students to do one thing, what would it be?
If i could get my students to do one thing, it would be to let go of their stage fright. I always remind them that singing/violin is all about having fun. It's not just about getting every note right; it's also about having fun when you are doing it. Take that deep breathe and give it all you've got in the moment, whether it's singing for friends and family or at a recital or a concert.
7) If you hadn't become a career musician, what other career would you have chosen?
If I hadn't become a career musician, I would have been a social worker.* I got my Bachelor's degree in social work at Georgia State University in 2014 and worked in the practice for two years. I worked at the Atlanta Children's Shelter and in geriatrics (ages 70 and up) for a company called Faith Health Services, Inc.. I also worked with after-school programs like the Boys & Girls Club of America, YMCA and Cool Girls, Inc., which were all dedicated to pouring positivity and encouragement into the lives of youth.
8) What's your favorite non-musical hobby?
I love making paper swans, and I am a professional hula hooper! Haha! And my favorite game is Dance Dance Revolution.
*Because of Angelina's experience in social work, she has been an amazing addition to our volunteer work as an organization at HomeStretch. We asked Angelina how things were going there: 
"HomeStretch has been amazing! The students have been so engaged in learning new things like learning how to read and draw notes, creating their own songs, learning rhythm, learning how to sing in harmony, learning the violin, and learning how different music brings about different emotions and expressing what they feel when they hear different types of music/sounds. It has been awesome teaching the group class and thinking of great ways to keep them engaged in wanting to learn music. We also sometimes close out our sessions with musical chairs!"