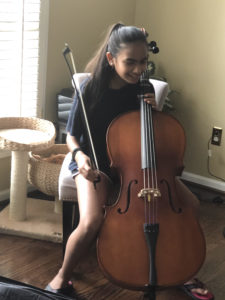 Congratulations to our May Student of the Month, Dia Sengupta, who was nominated by her teacher, Miss Melanie Latty. Miss Melanie says:
"I nominated Dia because she has transformed into an incredibly gifted pianist! You can see her passion for music when she plays. Dia has repeatedly proven herself and her dedication to learning through extra practice. No matter how difficult the piece, Dia perseveres. Dia's strong spirit, great sense of humor, and desire to learn are just a few of many reasons I find teaching her to be a blessing. Brava, Dia!!"
Dia is eleven years old, and in addition to playing piano, she also plays violin in her school's orchestra. She would like to one day become a professional pianist and composer, and says that she finds music "soothing and thought-provoking." She's currently working on pieces ranging from Coldplay's "Viva La Vida" to the theme from Interstellar to the more classical "Malagueña."
In addition to her budding career as a musician, Dia is a young activist for animals. She works to educate the public about endangered species by handing out pamphlets, starting conversations and writing essays on protecting these species. She also volunteers at cat shelters and has rescued seven cats of her own from shelters around the Atlanta area. She aspires to have a career in veterinary medicine one day.
She also has a black belt in Tae Kwon Do and plays forward and midfield in a recreational soccer league. Is there anything this girl can't do? We don't think so, and we're very proud of everything she's already accomplishing. Congratulations, Dia!