by Metro Music Makers instructor Mark Grundhoefer
One day in college, I was in a local music store looking at acoustic instruments. They had acoustic guitars, dulcimers, violins, mandolins and banjos—and that's what really caught my eye! I picked up a 5-string banjo and began exploring the fretboard and plucking the strings. I was sold. Over the next few months, I taught myself how to play. But don't worry, Metro Music Makers has you covered. We offer banjo lessons!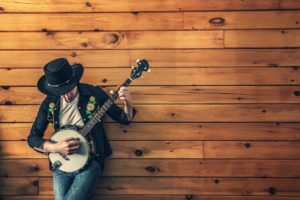 The banjo is actually pretty similar to the guitar. Standard tuning for a guitar from low to high is EADGBE. The 5-string banjo is usually tuned GDGBD (though there are many other tunings). So, three of the five strings of the banjo are the same as a guitar. If you're a guitarist, learning chord shapes and scale patterns is just a small adjustment away.
The biggest difference—and challenge—the banjo has to offer is in the right hand (for right-handed players). The most common style of playing is called Scruggs Style, named after bluegrass banjo pioneer Earl Scruggs. It is a three-finger style in which metal or plastic picks are worn on the thumb, index and middle fingers. Similar to fingerstyle guitar playing, the Scruggs approach uses the three fingers to pluck individual strings in patterns, while chords and notes are fretted with the left hand.
Later in my exploration of the banjo I discovered Clawhammer. This early American style incorporates more strumming than Scruggs Style and has a specific move that is played in a two-step rhythmic approach. Typically, the right-handed player picks a melody note with their index finger nail on beat one. Then, on beat two, they strum the banjo followed by a pluck of the fifth string with the thumb. The constant motion and two-finger approach gives the illusion of the right hand being stiff and taut, like a claw.
The most popular banjo is the 5-string. But there are a few others worth considering. The tenor banjo is a 4-string banjo that is strummed. The intervals between the notes of the strings are tuned similar to a viola. You can hear the tenor banjo in Irish music, as well as in a lot of Dixieland music. It was also used in other forms of early jazz. My tenor banjo was built in 1910 and belonged to my great grandfather. A newer development is a 6-string banjo tuned like a guitar, for those guitarists that don't want to learn a new instrument but want that banjo sound.
Learning an instrument can be tough, obviously. But it's also very rewarding to expand your horizons beyond the conventional instruments and try something a little different. I played banjo and guitar in a successful bluegrass band in college. I've used the banjo in the studio for different projects. I use it in a lot of my own music. Recently I used my tenor banjo to score music for an indie film. The possibilities are endless!
Here's some of my favorite banjo-ists:
Bela Fleck https://youtu.be/q0Q4CBDFaEc
Steve Martin https://youtu.be/CbA9JHkkaAk
Noam Pikelny https://youtu.be/jUmeRZnQGKI
Earl Scruggs https://youtu.be/AJOIqmlI65Y
Rob McCoury https://youtu.be/080Kwc1WWiQ
Ralph Stanley https://youtu.be/GXol_cAd3Do