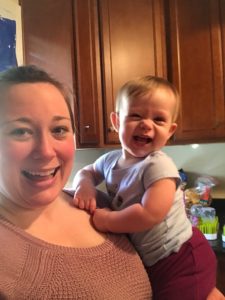 1) What do you teach at Metro Music Makers?
Voice, piano, guitar and ukulele
2) Do you play any instruments beyond what you teach? If so, what?
I can play a mean recorder!
3) If you could only hear one song on repeat the rest of your life, what would it be, and why?
I can't answer this because the idea of only hearing one song on repeat forever makes me sad — there is too much good music out there to ever pick just one!
4) What is the best part about teaching?
Getting to witness the beautiful people that my students become and knowing that I've added to that beauty by giving them the gift of music. It's incredible to watch each person's journey and realize that I'll always be a small part of it.
5) Do you play or sing somewhere regularly? 
Yes! I'm a staff singer at the Cathedral of St. Philip in Buckhead. We just performed Bach's St John Passion with the Atlanta Baroque Orchestra!
6) If you could snap your fingers and get your students to do one thing, what would it be?
Laugh at my jokes? Haha; just kidding… PRACTICE of course! (A girl can dream, right?!)
7) If you hadn't become a career musician, what other career would you have chosen?
I actually considered becoming an English teacher for a year in college.
8) What is one random fact about you that might surprise us?
Reading is one of my favorite pastimes, although finding time with a baby around is hard! Surprising fact: I taught myself how to knit and crochet in high school and actually made my daughter a baby blanket.