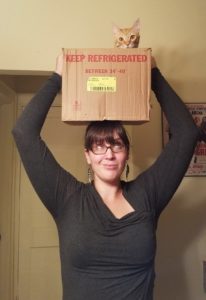 1) What do you teach at Metro Music Makers?
Piano and voice
2) Do you play any instruments beyond what you teach? If so, what?
I don't play any other instruments currently, but I also took Suzuki violin and classical guitar as kid before I settled on voice.
3) If you could only hear one song on repeat the rest of your life, what would it be, and why?
I'm more of an entire-album kind of girl, so this is a hard question! If I could cheat to pick an entire classical work, it might be Brahms' Symphony No. 3. Even that makes me feel uncomfortable, because the history of music is so rich with examples of beautiful, meaningful pieces that have touched me and changed my perception of the world!  But if I were to pick just one popular song, Jethro Tull's "We Used to Know" has stuck with me pretty consistently through the years.
4) What is the best part about teaching?
Working one on one with a student, you get to know who they are, both on a musical and a personal level. It's a wonderful privilege to watch them grow!
5) Do you play or sing somewhere regularly? 
I'm currently finishing my doctorate at the University of Georgia in vocal performance. I've loved being able to perform regularly there with the opera department and in other concerts. I just finished my final mainstage opera at UGA, which was The Marriage of Figaro. I also am a soloist at Dunwoody United Methodist Church, and I perform around Atlanta with other classical music organizations.
6) If you could snap your fingers and get your students to do one thing, what would it be?
Practice! 😉 But honestly, I wish I could impart a better understanding of the tapestry of musical traditions that continue to shape the way we write, play and listen to music today. There's so much to learn, and the more I learn, the better I appreciate music.
7) If you hadn't become a career musician, what other career would you have chosen?
I thought pretty seriously about studying linguistics in college, but then I got into a conservatory, and I've never really looked back!
8) What's your favorite non-musical hobby?
I love reading when I get the time, usually fantasy or science fiction, and swimming. I can't think of much better than plopping down on a beach somewhere with a good book and enjoying the sunshine!