Written by Aria Taboada, instructor at Metro Music Makers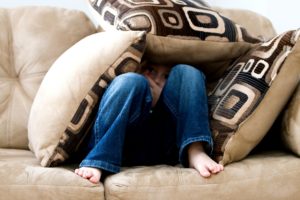 Stage fright. . .
If you have ever performed an instrument or given a speech you know what it feels like. The nervousness of performing in front of others affects nearly everyone, and stage fright has caused a few of my students in the past to pull themselves out of recitals. As a teacher, I am always disappointed when this happens, because regardless of how the performance goes, it is very beneficial to perform in front of others.
It strengthens your confidence.
The first recital or other performance can be daunting. Everyone's eyes are on you, and you feel like everyone is judging you. The reality is that you are your worst critic. Usually nobody notices those small mistakes, and even if they do, they forget them by the time the next performer gets up. Just as in life, making mistakes in performing is what grows you as a musician. It fine-tunes your ability to be able to handle that "worst case scenario" of messing up. The next time you get up on stage, you will be that much stronger and better able to handle the pressure of performing in front of others. In no time, the nervousness will subside, and you will enjoy showing off your new skills to the world.
It gives you a goal to work toward.
Lessons are always fun because you get to learn new things. But what happens when you are done learning a piece? Most pieces are just stored in your memory, and some sadly are not played again. A recital or other performance is beneficial because you get a reward for learning your piece. You get to practice it to perfection, then present it to someone else. Even if you are not planning on performing in a recital setting, it is always a great idea to set up your own performance. It could just be calling your relatives into the room and having them sit down and listen. This gives you the satisfaction that you have learned and shared your music.
It gives you a chance to share the gift of music.
You are a unique individual, and nobody plays or sings exactly like you do. This should get you excited to share your talent with the world! By performing for others, you are gifting them with an experience they have never had before. What if John Lennon or Freddy Mercury had thought that their unique sounds were not good enough, and decided not to perform? You never know what talent you might posses until you share it with others.
There are many benefits to performing, but if you are still in doubt, talk to your teacher, and I'm sure they can calm your nerves. They may even tell you about their first performing experiences. I have several myself. . . Some are wonderful, and others were embarrassing to me, but all of them made me the musician I am today. Get out there and perform, and always enjoy your music.