by Metro Music Makers music therapist Melanie Latty, LPMT, MT-BC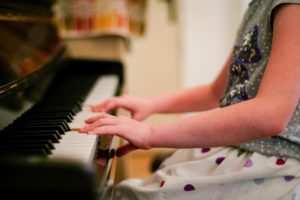 As music educators, our duty is to observe, assess and implement a teaching plan based on our student's individual strengths and needs. Through these methods, teachers evaluate our students and the effectiveness of our strategies. Teachers are trained to help students with a variety of learning styles, but once in awhile, we work with a student that clearly has a unique set of challenges, but the parent has not mentioned whether the student has a diagnosis. If you're a parent and you've decided not to mention your child's diagnosis because they are high-functioning, you may want to reconsider speaking with your teacher about it.
Although music teachers are not trained to address symptoms, having knowledge of a child's diagnosis and good communication with their parents can ensure that a child is receiving the best music education.
Each diagnosis has general characteristics, but each child is unique, and characteristics of a diagnosis may appear differently. A teacher that has been familiarized with your child's unique needs can adapt their teaching style and the student's environment, determine how to pace lessons, and continue to build and strengthen rapport with you and your child.
1. Knowing your child's diagnosis can help us know how to structure their lesson.
Knowing your child's diagnosis can help teachers create predictable routines and pace lessons. Sometimes a student needs a faster-paced lesson structure that sustains their attention by designing activities that are conducive to their learning style, or perhaps they would thrive with a slower pace that allows them the time they need to process information. Knowing our students' individualized needs can help us with how we provide directions. It can also help us adjust the way we give directions. Some examples of this might include providing written directions in addition to verbal ones, repeating or rephrasing instructions and questions multiple times, and simplifying our language.
2. We can assess what factors might be hindering your child's learning process and adapt their environment to support their learning needs.
If your child is easily distracted or overstimulated by loud noises, or if your child needs to move around to learn, teachers and parents can work together to create an environment more conducive to your child's learning needs. This might be eliminating distractions, allowing your child to play piano standing up, or having your child use a Wiggle Seat, for example. Simple home activities, such as unloading the dishwasher, playing the TV or Spotify at a high volume, mowing the lawn or blowing the leaves, or vacuuming in a room that is adjacent to where your child's lesson is taking place may be taking away from their learning process.
3. Knowing our student's sensitivities can also help teachers adjust their teaching style.
We want to make sure we are not upsetting our students, and occasionally, a teacher may not realize they have unintentionally upset a student. Without knowing our student has anxiety, we might not catch the subtle signs that they are experiencing a panic attack in a lesson. Without knowing our student has depression, we may mistake their symptoms for disrespect or laziness. Without knowing our student has ADHD hyperactive/impulsive type, we may mistake hyperactive/impulsive symptoms for misbehaving. Without knowing our student has dyslexia, we may think our student is repeatedly making careless mistakes. Teachers may never realize that they're not providing enough thinking time for students to process information.
When you speak to your child's instructor about your child's diagnosis, you are helping us avoid making a teaching mistake that will negatively affect our rapport with your child. A strong student-teacher rapport is important, because it can mean your child is more likely to maintain their interest in music lessons.
4. Discussing your child's diagnosis will help to strengthen you and your child's relationship with your music teacher.
After discussing your child's diagnosis, continue to speak regularly with your child's music teacher about what is working in lessons, as well as their practice outside of lessons. Providing feedback will help the instructor to make changes needed to help your child and ensure their success in meeting their individualized goals.
Our music therapy staff is currently offering a special needs proficiency course for regular teachers at Metro Music Makers. These courses teach our instructors ways they can work effectively with high-functioning students with Autism Spectrum Disorder, ADD/ADHD, learning disabilities and Anxiety/Depression. Although these courses are meant to help increase our teacher's knowledge of diagnosis and how to best help our students individually, our teachers might not be trained to work with students experiencing bigger challenges. Regularly speaking with your teacher can help you both determine if your child would benefit from working with one of our highly trained board certified music therapists. Remember, speaking to your teacher about your child's diagnosis can help us to provide you and your child with the best possible music education experience.