Written by Mark Grundhoefer, instructor at Metro Music Makers
If you've ever wondered if you're too old to start learning instrument, the answer, simply put, is no – but if you're a 45-year-old accountant with three kids, you will have to work harder than any eighth grader. Kids' brains are like sponges. Ours … not so much. But taking lessons as an adult can be a rewarding challenge with many benefits. It keeps the mind sharp and can provide an outlet for stress relief – and it's fun!
Children are signed up for lessons by their parents. After all, many of them wouldn't choose to do any activity requiring that they look up from their iPads if they weren't forced to do so. As an adult, when you sign up for lessons, you're voluntarily deciding to learn a new skill. But why? Maybe you want to join a coworker's Tuesday night garage jam. Maybe you want to do an open mic night at your local coffee shop. Some people just want to be able to play their favorite songs, in their homes – no audience required (or wanted). Setting a goal, as simple or lofty as it may be, is important in finding success – and enjoyment – in this new endeavor. Whatever your goal may be, share it with your instructor. Goals can change, too. Maybe it'll turn out that you want to quit your day job and hit the road!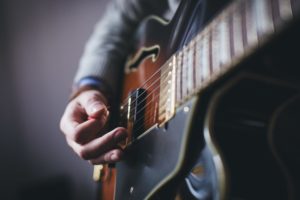 Finding time to practice is the number one reason an adult student doesn't excel, gets frustrated, and quits. You'll need at least 10 minutes of practice every day if you want to reach your goal. The problem is that earning a living wage, taking care of your family, fixing up the house, and whatever other responsibilities you have will always trump practicing your instrument. And at the end of the day once you've done all of those things, who has the energy left to practice? So get creative! Get up 10 minutes early and practice your piano before work. Use a vocal warmup CD to do exercises in the car during your commute. Instead of taking the full hour to eat your lunch, bring your bass, and go find an empty conference room. Carry drum sticks and a pad to work on patterns while making phone calls in your cubicle. The acoustics in a stairwell are amazing, so run scales on your sax. Figure out how to build practice into your daily routine, and you'll see that with a little bit of time, you'll reach your goals with ease.
One of my students picked up the guitar for the first time in his late 40s. A year later, he was playing in a band. How did he progress so quickly? By finding time to practice. He took his acoustic guitar to the office every day and practiced whenever he had a few spare minutes. He gained confidence, without even realizing it, by playing in front of people he worked with on a daily basis. It turned out that his office mate also played guitar, and now their office looks more like a music store than a place of business. They spend their lunch hour trading riffs and working on songs together. The results may not be the same for everyone, but if you put in the effort and get creative with your practicing, you will be rewarded in ways you may not expect.
Consistency is the key to mastering any skill. Just like practice, a consistent lesson program – in addition to daily practice – is essential. Find a time that you and your instructor can meet each week and keep it. Treat lessons like a board meeting. You wouldn't show up late and unprepared for your Monday morning meeting, and you wouldn't reschedule it last minute. Your lessons must be the same. With a goal in mind, and a commitment to practice, you'll be ready to take on any challenge learning an instrument may present.