This month, we'd like to introduce you to Leah Rappaport! Leah was nominated by Miss Melanie Latty, who says: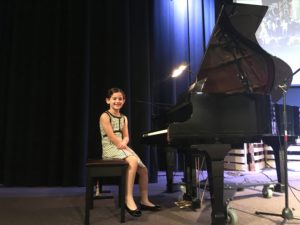 "I always look forward to lessons with Leah because she always has a positive attitude, and she's usually laughing throughout our lesson. Leah goes above and beyond. Not only does she complete all her assigned practice, she also brings her own compositions to our lessons. Leah writes her own superhero theme songs and is all about Mr. Bruno Mars. She is a real team player and a talented student. Congrats on winning the Student of the Month award, Leah!"
Leah is 8 years old and in the third grade. She's been taking piano lessons with Metro Music Makers for three years now, and she composes her own music, likes to play the latest songs on the radio, and loves a challenge.
In addition to being a superstar piano student, Leah loves staying busy with gymnastics and dance classes.
Leah is a creative, talented and driven student, and Metro Music Makers is proud to have her in our family. Congratulations, Leah!