Written by J.T. Lee, instructor at Metro Music Makers
Piano and guitar. These two instruments make up the majority of students for most music instruction companies. It seems as though many parents feel that students can only start on these two, or maybe violin. But what if I told you (insert matrix meme here) that your child can gain the same musical value and education while studying any instrument?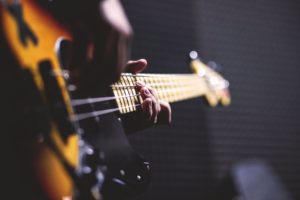 Take bass, for example. I love playing bass. In fact, even though saxophone was my first love, bass is my highest-income producing instrument. Every band needs a good bass player, and the younger you start it, the better chance you have at being better when you're older. I do understand that there are some physical limitations to instruments like bass, but there are ways to get around that, like purchasing small-scale versions of the instrument.
So why play something like bass? For one, it offers the unique ability to sit in with a group from any genre of music —from the classical symphony to the '80s cover band. Also, many groups and companies are searching for young players to represent them through endorsements. Companies like ESP Guitars or Orange Amps often use young, talented musicians for their advertising. In the long run, there are tremendous performance and scholarship opportunities available for people playing less common instruments. (See my former blog post on this subject.)
But if bass isn't for you, there are many other opportunities as well. Many young boys show interest in drums, but their parents aren't too excited about the noise. Did you know that there are electronic drum kits available, and they come with headphones? And if your highly active student wants to play drums, it's the perfect way to burn energy while increasing their ability to play a variety of rhythms. Given the current musical climate, I can't think of anything more sought after right now than solid drummers.
In fact, no matter the instrument, there is always some value and opportunity in learning to play. I say, give them a chance. When your student's interest starts to fade, think about giving another instrument a shot. Or, if you already have a piano player or guitarist in the house, think about starting the next child on something different. Who knows, maybe they can stop fighting long enough to start a family band?