By Morgan Ann Minyard, LPMT, MT-BC, Music Therapist at Metro Music Makers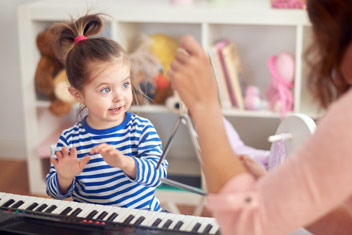 People often wonder what music therapy is and who might benefit from it. I'm here to help you better understand the different diagnoses that we typically see, as well as briefly dive into strategies that we incorporate into sessions.
What is Music Therapy?
First and foremost, music therapy is an evidence-based clinical intervention that uses music-based activities to achieve cognitive, behavioral, emotional or physical treatment goals. Phew, that was a lot! Basically, music therapy uses music to meet non-musical goals.
Different Diagnoses
Music Therapists individualize treatment plans to meet specific goals for a range of distinct diagnoses and disabilities. A few common ones are listed below.
Includes, but definitely not limited to:
Autism Spectrum Disorder
ADHD/ADD
Cerebral Palsy
Intellectual and Developmental Disabilities (IDD)
Emotional/Behavioral Disorders

Anxiety disorders
Depression disorders

Auditory Processing Disorder
Spina Bifida
Neurofibromatosis

Our Strategies
Here at Metro Music Makers, our team of licensed professional music therapists utilizes an in-depth process to address goals that cater to your child's individualized needs. For example, when working with a child that has autism, the music therapist might use music to:
improve social skills by teaching appropriate social behaviors through song cues,
reduce impulsivity by singing through imitation or utilizing turn-taking activities,
increase focus and attention span by implementing songwriting activities, etc.
This is dependent on your child's specific needs, but it gives you an idea as to how music therapy can be extremely beneficial while still being fun!
More Information
For additional information on our music therapy program, click here.
If you feel that your child might benefit from music therapy, or have any questions, please contact us today:
Sara Longwell, LPMT, MT-BC, Director of Music Therapy
Email: saramt@metromusicmakers.com
Office: 678-637-729