Our July Student of the Month is Jake Palgon! Jake is 14 years old and has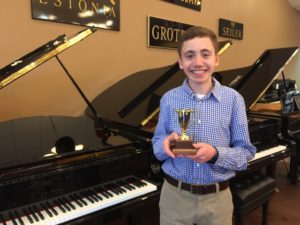 been playing the piano since he was only four. Jake was nominated by his teacher, Mr. J.T. Lee, who says:
"I nominated Jake because of his willingness to take on tough and new challenges. For the Christmas recital he tackled Maple Leaf Rag and played one of the cleanest versions I've heard. He also played for the first time with a band at the spring recital. I'm very proud of Jake because he takes his skills out into the community, volunteering at a nursing home monthly and sharing his love of music with others."
Jake says: "I have always loved piano and I enjoy learning new songs. My favorite things to play on the piano are classical, jazz, and really fast-paced songs.  Currently, I am learning to improvise jazz and play in a trio.  I have also had the opportunity to accompany a singer.
"Once a month, I volunteer at an assisted living home near my house. I play piano for the residents and they really enjoy it.  They often request songs from their era or from old movies. I am able to find the music online and learn to play the songs they know. It makes me happy to make them happy!
"In the future, I plan to be an architect and to use my musical talent as a hobby."
We love seeing our students use their musical talents to give back to the community, and we hope one day we'll see Jake's buildings in the Atlanta skyline!
Congratulations, Jake! Check back in August to see who our next Student of the Month will be.