We'd like to introduce you to our May Student of the Month: Adrienne Self!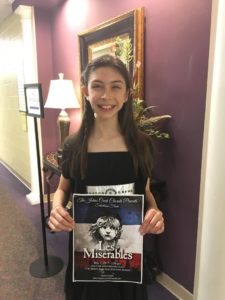 Adrienne is 10 years old and was nominated by her teacher, Mrs. Kristen Van Dyke. Adrienne is a vocal student whose star is already on the rise. She has been selected for the role of Cosette, as the only student performer in the upcoming production of Les Miserables being performed by the Johns Creek Chorale.
Mrs. Kristen says, "Adrienne has a true passion for music and the arts. As her teacher, it is so awesome to see her growing as a singer and working hard. Adrienne takes everything we talk about in voice lessons and applies it. When she sings, I can truly see her excitement, and I absolutely know she will be able to do anything that she sets her mind to. It is always a joy to work with her!"
Adrienne tells us that she loves to express herself in many ways –though dance, art, cooking, and making up stories, songs and plays with friends. But her FAVORITE outlet is singing! She says whether she's feeling excited or mad or full of joy, she can sing it. Her favorite songs to sing are broadway musicals, Disney movie songs, and praise and worship. Adrienne also has a passion for helping others and would enjoy using music to serve those in need.  Her favorite musical right now is Matilda, and she would love to play that role.
We can't wait to see what the future holds for Adrienne, and we look forward to seeing her at many future MMM recitals and events!