written by Joseph S. McBrayer, voice instructor at Metro Music Makers
As someone who both teaches voice and sings professionally, one of the most common questions I am asked is how young I started studying music. The truth is that I got into music much later than many of my colleagues, but I believe it is never too late to get started. I am not an expert on child development; but based on my experience, here are a few signs that indicate that your child is ready to start voice lessons: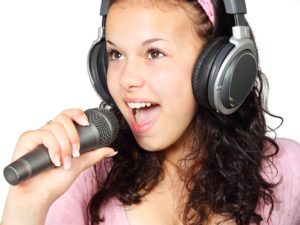 Your calendar is full of chorus concerts, musicals and other singing performances.
If your child is already willing to dedicate a substantial amount of time to music and singing, adding a weekly, private lesson is small potatoes compared to the time he is already putting in every week.
Your child sings as much as (or maybe more than!) she speaks.
If your child constantly sings everything from her favorite songs on the radio to her spelling list, she might be ready to take the next step with lessons.
Have you asked him?
It seems obvious, but have you asked your child if he is interested in taking voice lessons? Your child's interest level is an important consideration.
There is no perfect age for starting voice lessons. The voice is a wonderful, sometimes-challenging, malleable instrument that everyone gets a grasp on at a different time. The main thing to take away is that it is never too early or too late to encourage passion and kindle the fire of an artist's heart.