This month's Student of the Month is a double feature! Brother and sister Charlotte and Daniel Llop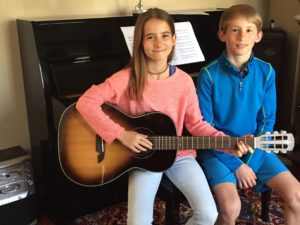 were nominated together by their teacher, Mr. Mark Grundhoefer. They are 12 year old twins who are in the sixth grade at Holy Spirit Preparatory School. Charlotte takes guitar and voice, and Daniel takes piano lessons with us at Metro Music Makers.
Mr. Mark says, "These two students always practice and work hard. They are always genuinely excited about playing music. They may be twins but they each have their own identity when it comes to their music and interests. Recently Daniel learned the theme to "Westworld", a very challenging piece. After listening to the original, and noticing the amount of guitar involved, he asked Charlotte to learn it as well. They both performed it at their school's talent show. The high school talent show!"
Charlotte says, "I want to keep getting better at the guitar. I love playing for friends and family at the beach."
Clearly, musical talent runs in the family! We absolutely love seeing siblings and families share music together, and we are so pleased to give these siblings the honor of being our first double honorees. We hope to see a lot more from these two at our future Metro Music Makers events and performances!