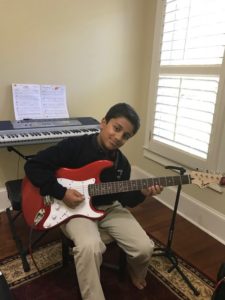 Congratulations to our October Student of the Month, Tanay Iyengar, who was nominated by his teacher, Mr. Brentley Cauthen! Tanay is 9 years old and he sings, plays piano and guitar.
Tanay says: "I have had an interest in music since an early age . I started playing piano at age 4 and last year developed an interest in guitar . I love playing guitar and also working on vocals. The piece we just worked on was a song called Drag Me Down by One Direction. I really enjoyed learning to play and sing this song at the same time. My goal for this year is to learn all the chords on guitar and eventually be able to perform professionally some day."
Tanay is on his way to a performance career already, as he has just successfully auditioned for his school's talent show and was chosen to perform. He also enjoys playing basketball, chess and Minecraft.
Mr. Brentley says: "Tanay is always excited for his lesson and to tell me about what he is doing in his life each week.  He works very hard to impress me with his playing and singing and doesn't get discouraged when a song doesn't go smoothly the first time.  He is always striving to improve and he is a better musician each time I come back to see him."