Written by: Ben Israel Thompson, Guest Artist/Drum Instructor
I love music. I am absolutely, positively a lover of music, and I have been since I was little. My dad was a songwriter and professional musician in the Atlanta area for a better part of a decade before I was born. Because he loved music, it became a part of my world. He used to sing and play in the living room for fun. He played at church. He sang old hits in the car. At every family reunion, he played classic songs from the 1950s through the '80s, and the 45 people squished into a living room sang every word. Yes, I heard lots of music growing up, and I knew immediately that I loved it and wanted to play.
My parents didn't force me to love music. (Practice though, is a different story.) I'm convinced that my love for music happened naturally because it was part of my world. I know not every child is going to love music the way I did, but each one deserves a chance. Every child taking lessons has the opportunity to see music as part of their everyday life.
What I'm asking you to do is to give your kids a fair chance at becoming music lovers. You don't have to be a professional musician like my dad – or even know much about music – to show your children that music is fun and a way to express themselves. What music moves you? If you had to put a playlist together of the songs that have impacted you in your life, what would they be? Share those songs and artists with them. Tell them about an important memory you have attached to that song. Even if you aren't a music lover, most people have a few songs that are important to them because of the moments attached to them. Invite your children to experience those songs and memories.
If you don't often listen to the radio, start listening, and listen to different stations. Show them different kinds of music, making sure to play genres they may not like. Even if you as a parent don't prefer a certain kind of music, this gives us the opportunity to reinforce that the world is bigger than us and our preferences. There are other cultures and traditions, and those are often expressed through different genres of music.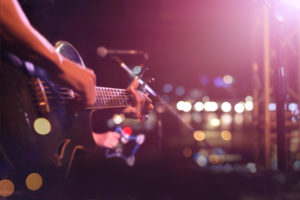 Seeing live music is a great way to introduce your children to the music around us. I highly recommend going to see a well-established touring artist if you can, but those tickets can be expensive. If you can't do that, try finding a bigger park near you (usually one with an amphitheater), and bands will often play for free for community events organized by the town. I've seen great live music at Suwanee Town Center and Newtown Park in Johns Creek. If there aren't any events on the calendar near you, you can look up restaurants that have live music, especially those that have bands on the weekends.
Music is available to us wherever we are-in the car, on our phones, in the mall, playing live in the restaurant, in the park, or rehearsing for a show in your neighbor's basement. It's not a surprise when a student wants to quit taking lessons when they've never been introduced to albums, different radio stations, or seen someone play their instrument in a live setting. If your child is taking music lessons, commit to connecting them to the music that's already around them.
What Can You Do?
Today…
Turn on the radio! Hit the seek button, and listen to whole songs on each station.
This week…
Think about your favorite songs. Play them on your phone or a CD and tell your kids why you love them.
This month…
Go somewhere and find live music. It can be free! Check churches, parks, and restaurants. If you have the time, introduce them to a musician that plays their instrument.
This year…
Go see a well-established artist play live. It may not be cheap, but try it once a year and make it a family event. They get to see professional musicians playing great songs with lights, a big sound system, a bunch of other people that love music, AND they get to have a great time with family!