Our Spring Recital Event kicks off this Friday night, and all of our teachers, students, parents and staff are busy ma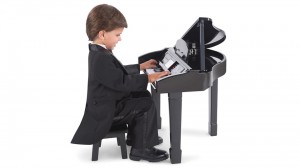 king sure we're prepared for great performances. Of course, this means lots of hard work and practice on performance pieces, but that's not the only practicing you should do with your student! Younger children in particular may not have been exposed to a formal performance like our recitals, and we all need to make sure they know just what to do. Here are the basics you should go over with your child before every recital:
1. It's very important that each student sits in his or her assigned seat. This helps the students know when it is their turn to perform, and keeps the recital running smoothly. We know some younger children (and, let's face it, their parents too) might be nervous about sitting apart for an entire recital, so be sure to explain this to them ahead of time. Tell them they'll be able to see you at all times, and that they'll have fun sitting with all the other performers!
2. Talk to your child about respecting the other performers by being very quiet while other students are playing. Explain that every student needs to focus when they perform, and it can be distracting and nerve-wracking if people are making noise in the audience.
*Bright Idea*: Instead of making it a "don't," encourage them to listen attentively to all the amazing things their peers are doing, and ask them to pick their favorites! You can even ask them after the recital which pieces they liked or didn't like and why. Give them a pen or stickers to mark their favorites in the recital program, if you have a child that needs to keep busy with something.
If your young student or a young sibling becomes upset or disruptive during the recital, you can always walk them out until they have calmed down. Just be sure to bring them back in between performances and not during them.
3. Practice bowing or curtseying with your student after they perform (students are welcome to do whichever they prefer)! In the excitement of the moment, students may forget if they haven't practiced doing it at home, and it can make for a sudden, awkward shuffle off the stage. Tell your student that it's how they say "thank you" to the audience who is applauding for them!
If you haven't looked at our full recital etiquette and dress code, you can find it here:
Metro Music Makers Recital Etiquette & Dress Code
In the meantime, the best of luck to all of our students, and we can't wait to see your wonderful performances!
Sara R. Longwell, M.M.Ed, MT-BC
Community Relations Manager & Music Therapy Specialist