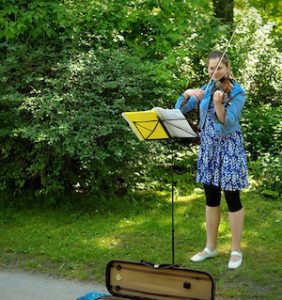 Learning an instrument is a gift that our students enjoy now and will take with them for the rest of their lives. We've had a banner year and there's so much in store for this summer and beyond!
If you think learning an instrument is a chore you do on your own, think again! Our students are actively involved in the community, play in recitals, coffee shops and public music venues as well as entertaining seniors at local community centers and more! Read our recap of the some of the fantastic milestones achieved this past year thanks to our awesome music education staff and amazing students! The fun doesn't stop when school lets out! Summer is a great time to learn a new instrument and we're so proud of our students who'll be performing in our first ever "Metro Music Makers' Summer Concert Series" this year! With multiple events and stellar performances, you won't want to miss all the summer fun this year!
Here's to an excellent summer and plenty of music to enrich your life!