written by J.T. Lee, instructor at Metro Music Makers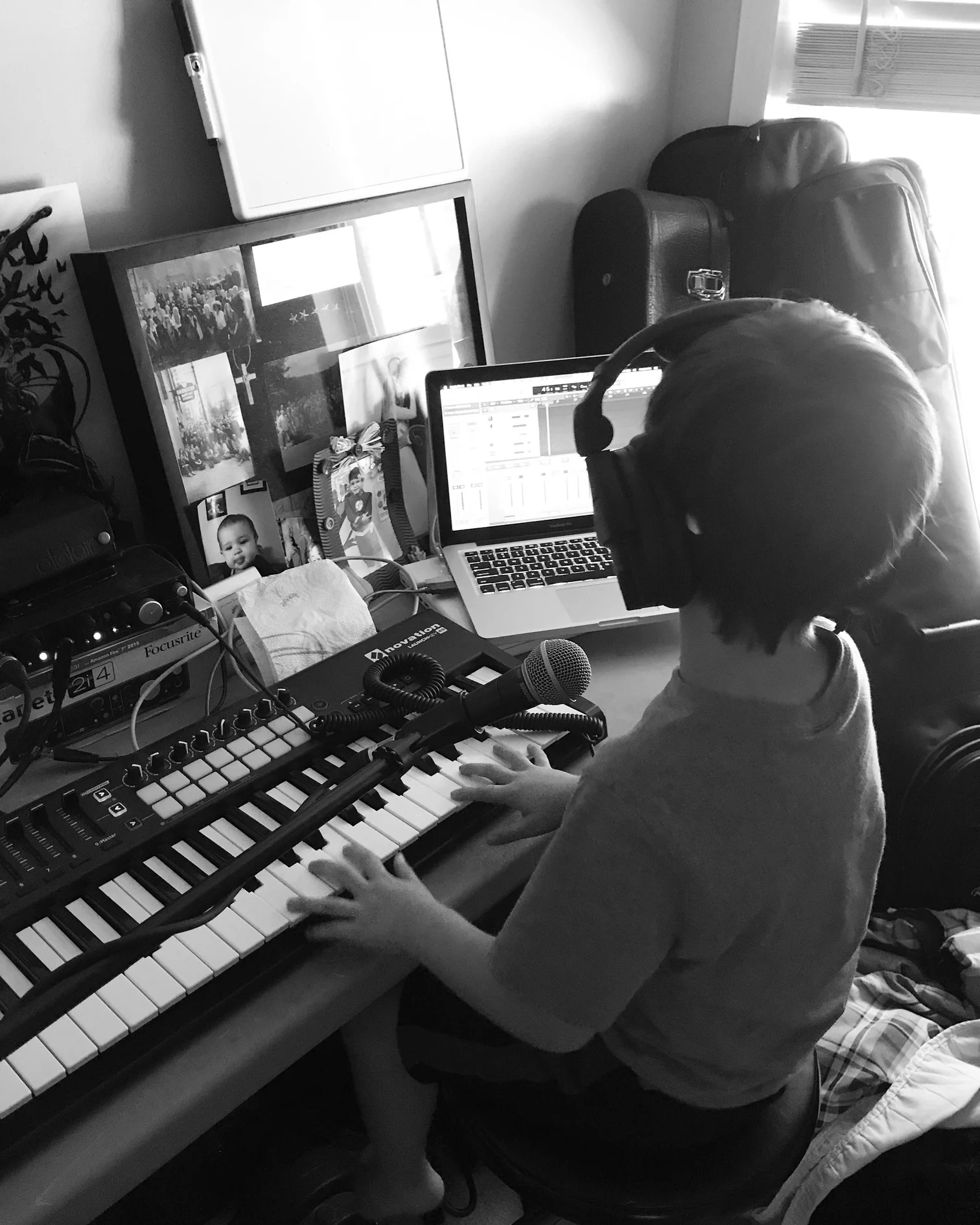 If you're like the rest of us, you're likely tired of hearing that the world is changing and that there is a new normal happening. Truth be told, the world has always been changing, and the COVID-19 pandemic just rushed it along in a few ways. Before that, most of us were aware that the world was slowly moving online; music education is no different. We knew that lessons were headed that way, so at Metro Music Makers, we jumped ahead of the curve. We've offered a wonderful online program for nearly a year now, and even before the entire student base temporarily shifted to online over the last few months, we had already started to see some of the unique and incredible benefits of online music education. Now with the majority of our instructors gaining online experience, these benefits are even more apparent. What are the benefits of online lessons? They include convenience, teacher availability, student enthusiasm, and opportunities for growth for both students and teachers, among others.
Online lessons are the most convenient type of lesson
For the first half-decade of my career, I worked at a music store, and for the other half, I've driven from house to house teaching. In both cases, I've found that the lessons would in some ways interrupt the daily routine of the household. When parents had to drive students to the store, they would sit aimlessly outside of the lesson room, waiting for 30 minutes to an hour for their child to come out. Many times parents would drag laptops along with them, or sit on their phones trying to talk over the symphony of educational sounds pouring through the studio. Many parents realized that they were losing precious time they needed to accomplish any number of things.
When I moved to in-home lessons, I thought this would be very different, but there was still some disruption. Parents were sometimes interrupted by my presence in their house, and they would often have to wait on the lesson to end to accomplish their evening routines. This could mean pushing back dinner, bedtime, or other important parts of their daily routine.
Since switching to online lessons I can tell you this: I am the least hindrance that I've ever been to a parent's day. Most of the time, they simply send their child to the piano lesson on the computer, and pop in once or twice (if even that) to check on the child. Meanwhile, parents are finishing housework, helping other siblings with homework, or maybe even enjoying a good book, and younger siblings aren't riled up by the stranger in the house. All in all, these lessons have taken our already convenient form of music education to an even more comfortable level. Parents can reap the benefits of added time without sacrificing educational quality.
Teachers can teach from anywhere, anytime
Another added benefit to the lessons is that more teachers are available to teach from anywhere, at any time. Students aren't limited anymore by their geographical location or the teachers available in their area. Teachers are available to reach students from any part of the world! This means military families, families moving for work, or parents living a new normal can maintain an form of consistency in their children's lives. Recently, with the creation of Truist Bank, one of my own families was relocated from Atlanta to Charlotte, North Carolina. Though my student lost his school and most of his friends, we've been able to maintain the working relationship that we've had for years!
Online lessons also open up new times for teachers to teach. Musicians are no longer limited to the small window between the end of school and the close of business hours. They can teach as early or as late as they and the students are comfortable. Adding to this, parents no longer have to host teachers in their home at late hours that, if I'm honest, aren't really comfortable for anyone. Without commutes, top teachers are also now able to open up more spots to take on your student, resulting in students getting a better education from top teachers.
Screen-based learning is natural for today's students
Today's students are very comfortable with online learning. In fact, when my son started kindergarten this year, I became painfully aware of the fact that even in the classroom, students are still learning on a screen (even at 5 years old). The truth is that screens are a natural way for students to learn in today's society, and despite our feelings on that, our kids enjoy it. During the COVID-19 lockdown, many of our families found students more engaged in their lessons. One parent even told me, "I don't know if I've ever seen my son more interested in his lessons." In fact, an MIT study examining online versus traditional education states that "the amount learned is somewhat greater than in the traditional lecture-based course," and that "online courses have increased student retention rates from anything from 25% to 60%." Students are not only more engaged, but they are staying in lessons more often when they are happening online. Pair this with a slightly lower financial investment rate, and the absolute truth is that you're getting more for your money.
Teachers are challenged in new ways—and are rising to the occasion
Many teachers have been forced to adapt over the last couple of months, but very early on, I realized that the level of educational value I was offering my students was actually relatively the same or even better than in-person lessons. Pair that with less mental fatigue from driving around town, and I've found myself to be a better teacher because of online teaching. For starters, it's forced me to improve my communication skills, especially when educating the student on smaller details that are often overshadowed when I am able to show students things in their lessons—things like the notes on the individual frets on the guitar, or the different names of the keys on the saxophone. Voice teachers are learning to communicate the actual actions needed to change muscle function, and piano teachers have been able to really dig in on more detailed technique.
These things paired with the new/updated functions of streaming software have made it more possible to have a personalized lesson that's really no different than what people are doing in person. If anything, new platforms are forcing teachers to improve their communication skills, which can lead to teachers becoming better at their jobs.
Online lessons offer new experiences and opportunities for growth
To maintain the normal flow of lessons to performances, Metro Music Makers created a platform for online recitals that proved to be both more comfortable for the students and more enjoyable for the audience than traditional recitals. Students were given the option to stream live or pre-record their performances. Then they logged onto a Zoom call with students from all over the region. The students did fantastic! Many of our musical theater students performed significantly better this way—undoubtedly because they were more comfortable and, if needed, could do multiple takes. They showcased not just their musical talents, but their acting skills as well. Songwriting students were able to perfect their songs, and improv students learned to stay with their tracks and understand form. Using previously recorded performances also meant that students had to hear themselves perform—something that's not even fun for professional musicians. Because of this, many of my own students sought to get better after they saw themselves on film.
Students are also continuing to grow in new ways that we never expected. Online lessons take a higher level of commitment to self-preparation and practice, and students are more likely to realize the areas they need to grow as a result of online performances. Many students have had to learn to self-educate, since they can no longer completely rely on teachers to just show them, or do it for them. Students are taking more responsibility for their own musical education. They have to log in to lessons, communicate with teachers, track their own goals, execute assignments on their own, and meet recording deadlines. Online music education has taught many of my own students a new level of responsibility that I never could have in person.
They're an outlet for community and expanding music education
A final benefit is the added outlet for relationship building. Currently, I have students working together on projects from all over the southeast. Being a part of an online company has allowed my students to become a part of a more national family. One of our major innovations at Metro Music Makers has been our online classes and ensembles. Students gather online weekly (or even bi-weekly) to discuss songs they're writing in our songwriting group, tracks they're producing in our music production class, or songs they're arranging in Rock Band. While they're separated from friends at school, and in a time when social distancing has been encouraged, our students have found a way to build new relationships through music. They've made new friends and done so in a way that doesn't put anyone at risk.
Outside of online lessons, Metro Music Makers is also offering group classes for early childhood educators, professional development, music therapy classes, summer camps, and many others options that add value to online education. Each of these offerings is making music education more accessible, sustainable and valuable for the long-term.