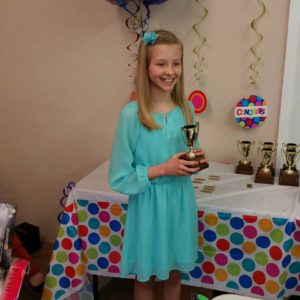 If you're new to Metro Music Makers, or you have a student who has never participated in the Junior Festival with us before, you're probably wondering what all the fuss is about. This guide contains everything you need to know and a few bonus tips for making sure your student has an excellent experience.
What is the Junior Festival?
The NFMC Junior Festival is an annual event where students are evaluated by a judge in a non-competitive environment. This program was created by the National Federation of Music Clubs, which creates the standards for each year's event. The standards require a piece by an American composer to be performed from the official NFMC bulletin.
What will my student need to do at the Junior Festival?
Each student memorizes and performs two pieces that they play for a judge at the event in a closed room. One piece must be chosen from a list created by the NFMC, and the other piece is chosen by the teacher and student. The choice piece must be the same level of difficulty as the required piece.
How are students scored?
Students are scored on a point scale from 1 (Needs Improvement) to 5 (Superior). The judge also fills out a comment sheet with notes on the student's performance. The student will receive their score and their judge's sheet immediately after they audition, so no nervous waiting required! Each year, we keep record of every student's scores and track their total number of points for every year they have participated. Once they reach 15 points, they receive a cup, and at every following 15-point interval they can earn larger and larger cups with their names engraved on them! We have found that earning cups keeps our students very motivated to participate year after year, and the good news is, even if they don't earn a Superior rating, their points are still adding up towards earning cups, even if it takes them a little more time to do so. Points are earned separately for each event, so students can earn cups for each instrument they audition on (or for the theory event, if they choose to take this test), but the points earned in each category count towards separate cups and cannot be combined.
What are the benefits of participating in the Junior Festival?
– Students learn how to prepare for and participate in auditions, judged or otherwise, in a formal setting.
– Students learn music by modern American composers.
– Your student (and you!) will receive valuable feedback on their progress and skill level from an experienced judge.
– Working towards earning cups and adding up points helps teach students the value of setting and working towards long-term goals.
– Participating, earning high scores, and earning cups can look great on a future college resume. It gives music students a clear way to demonstrate their skill level with a national standard, and non-music majors can use their Festival history and scores to show that they are well-rounded, goal-oriented and disciplined.
What is the cost?
Participation in each event costs $37.50, plus a small processing fee. This registration fee is non-refundable, and will be collected at the time of registration. If your student participates in multiple events (say voice and piano, or piano and guitar), you will need to register and pay the $37.50 fee for each event. Please note that the Theory Test is $25.00, plus the processing fee.
Should my student take the Theory Test?
Music theory is more than just reading notes. It's a deeper understanding of the music language. Music theory can help musicians learn new techniques, perform different styles of music, and develop the confidence to try new things. Young musicians make leaps and bounds in their musical studies as they understand how music works. For this reason, we encourage all of our students to enter the Theory Event. Practice tests and answers are available for students to study.  The tests take up to 3 weeks to be graded. Once graded, results will be sent to your instructor to share with you. Cost to take the test is $22.50 (non-refundable).
How can I be sure my student will be successful? What if my student doesn't do well?
The judges who audition students at the Junior Festival are trained to score students and provide feedback in a positive and constructive way, and even if your student struggles, they won't receive demoralizing feedback or extremely harsh scoring from judges. The judges will make suggestions for improvement in a way that won't discourage your student, and they'll note what your student did do well.
In addition, the one and only key to success in this event is to be prepared. If your student works hard to prepare for this event, they will succeed. If for some reason, your student is not completely prepared or doesn't do as well as they hoped in the audition, they will still receive points toward earning cups, and they'll get some very helpful and specific suggestions from the judges about what to work on for the following year!
When and where is the Junior Festival?
The festival for Metro Music Makers' students takes place on a Saturday in February or March each year at Piano Works, located at 2805 Buford Highway in Duluth. Each student will be assigned a specific audition time. If you are unavailable for the entire day but want to participate, please contact us and we will attempt to find your student a spot at another Festival event in the area.
If you are not a Metro Music Makers customer, visit the NFMC website to look up a Junior Club in your area. Contact the chairperson for that club for the festival date.
Remember: Your teacher is your best resource for all things related to Festival participation. He or she will be able to help your student select pieces and prepare, as well as answer any questions you might have about how auditions work, what to expect, etc.