Nita McKoy-Hamm began at Metro Music Makers as a piano and voice teacher in January of 2013, and now she takes on the challenging task of keeping our creative staff on the rails. In her role as Office Manager, Nita sets up new customer accounts and coordinates lesson schedules for our instructors. She assists our customers and staff with all questions and communication, as well as any issues that arise. She also helps coordinate our events and staff training.
Nita is accustomed to working behind the scenes at Metro Music Makers, but we convinced her to share a bit of what's going on in her world outside of Metro Music Makers.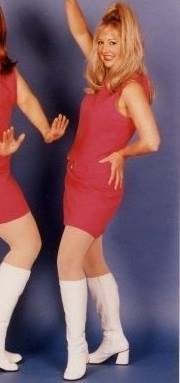 What is your musical background/current musical endeavors?
I was a piano and voice teacher from 2000 to 2016. I have been in several showbands over the years, singing and doing choreography to songs from the 60s and 70s (complete with sequined costumes and crazy wigs from the era!). I'm hoping to get my classic rock band back together this summer, in which I play keys and sing lead.
What was the first album you ever bought?
The first album that I bought was Rumours by Fleetwood Mac and it was a real album, not a CD or a digital download! I'm dating myself a bit with this, because the album came out in 1977. It really wowed me on so many levels — so many amazing melodies and harmonies on every song. It really inspired me to work on vocals and to teach myself how to sing harmony.
Who are you listening to right now?
Right now, I'm mostly listening to my husband's collection of 2,000 rock albums! Yep, I said 2,000.
What musical accomplishment are you most proud of?
Winning a talent show that was held by Rick Springfield!
What's the latest in your world outside of music?
I'm so happy that I got married about a year ago, and he's a musician! (software engineer by day)
When you're not at work or performing, what are you doing?
Spending time with my teenage stepchildren, traveling, and watching my fave team, the Atlanta Braves!
What's the latest in your own music world?
I am hoping to do some recording with my husband in our home studio. He's written lots of music, so we'll start there.