written by J. T. Lee, Metro Music Makers instructor
The fall is always an exciting time of year. Students start back to school, football's on, and baseball is winding down. As many parents know, it's always a great time of year to start or end different extra-curricular activities because this time of year provides natural on-ramps and off-ramps for them. This has been a different year for me as I have seen a lot of new faces, but sadly, this week I had a final lesson with an old one. I realized that both first and last lessons come with their own sets of emotions, and I wanted to take a moment to share some of my own from the perspective of a veteran teacher who's had quite a few of both.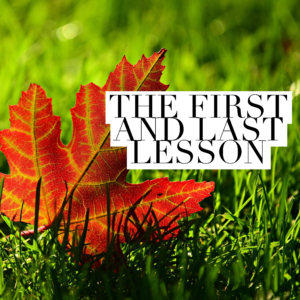 First lessons are always fun, but if I'm honest, they come with a touch of anxiety. While I always approach first lessons with an air of anticipation, let's be real: it's always a little awkward, especially for in-home lesson teachers. Each person is trying to figure the other out. The teacher is looking for signs of how the student communicates. What are their likes and dislikes? How about their learning style? What are their expectations? Are they going to enjoy this instrument? On the flipside, it feels like the student is wondering… How long is this? When can I grab a snack? Who is this strange, bearded guy in skinny jeans? When can I play the solo from "Hotel California"? Okay, maybe not the last one, but you get the point.
It's important in a first lesson for parents to be the bridge in this. Parents, teachers love getting help from you. The more you can tell us about your child, the better chance teachers have at succeeding in the lesson. Also, no one knows how to communicate with your child better than you, even though it may not always feel that way! You can always help your teacher by letting them know what the student is saying outside of lessons and helping to re-phrase what the teacher says in a way the student understands. This can be especially true for the first lesson, or even the first few. Your words and help in communicating can have a dramatic effect on how quickly and how well the teacher is able to connect to the student, which overall can determine the longevity of the student/teacher relationship and the return on your investment.
But like many other parts of a student's life, things change as they grow, and eventually students and teachers have to experience their last lesson. This was the tough one for me to process this week. Like most teachers, I invest highly in my students, so when I have these moments, it's always a little somber. Often it's a graduating senior moving on to the next stage of life. This is a joyous occasion, but it's still hard to see the kid all grown-up. Then there are the hard times when a student or parent decides not to continue. Those are the toughest. The key in this moment is to realize that though I'm losing a student, it doesn't mean that I'm losing a friend. Those memories are still there, as are the people. They're only a phone call away, as am I. That's the true value of music: yes it's a valuable skill, but it leads to something deeper— an unspoken fraternity of people who understand things differently… people who speak a different language and see things through a different scope. Even though you may be losing a student or teacher, music will always be there to keep you connected. That connection lasts a lifetime.