by Dave Colquitt, Metro Music Makers instructor
Let's be real. Learning a new instrument, how to sing, and how to write songs is a process that takes time. As a teacher, I constantly hear how hard it is or that a student wants to give up.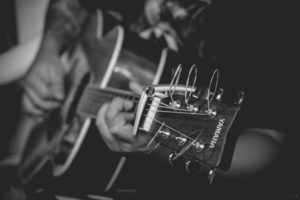 One of the biggest misconceptions I have come across as a musician who has toured, worked in several studios and now teaches, is that playing an instrument or learning to sing is an easy hobby to pick up in just a few quick lessons. It's quite the opposite. It takes dedicated time to the instrument or your voice to learn, practice and master individual topics. To put it in to perspective, I have been playing guitar for over 19 years now, and while I have accomplished a lot, there is still a lot to learn.
As musicians, we never stop learning. We become stagnant, stuck in the same place, and frustrated because we can't move if we have the master mentality. The best musicians I have worked with and seen perform are the ones that have a life-long student mentality. When it comes to your student who is having a hard time moving past a topic, encourage them. Let them know that there is a light at the end of the tunnel. Never give up, always learn, and most importantly. . . have fun!