When we put out the call to teachers for their Student of the Month nominations,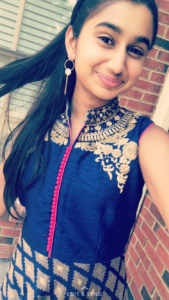 something very special happened. Both Karina's piano teacher and her violin teacher with Metro Music Makers nominated her. With such a resounding endorsement, we just had to award her this honor and find out more about her.
Miss Melanie, Karina's piano teacher said, "She is a hard worker and has really proven herself this past month by taking on challenging pieces Canon in D, Für Elise, and Ballade. She is learning piano and guitar with me and violin with Aria! She comes to lessons prepared and is always eager to learn complex pieces."
Karina is 13 years old, and she loves music. She's been playing piano since the age of four and has been playing the violin for a year. We asked her why she made the ambitious choice to play two instruments, and she said, "Playing instruments and making music makes me really happy. Whenever I'm free, I play the piano and violin, and I love learning new songs. It's also a good stress reliever when I have a lot of homework. I wanted to learn the piano because I had heard someone play the piano, and I wanted to play violin because my sister played it and it inspired me to play.
Violin has helped me play piano because of the curved fingers. I have to curve my fingers when I play the violin and that helps me play legato on the piano. Piano has helped me sight read the violin music. I only learned to sight read because of the piano, and it makes it easier for me to play."
Karina talked about why she loves taking lessons with Metro Music Makers, too:
"I love metro because of the amazing teachers. I started with Aria when I was 4, and she really started my passion for music. She taught me notes and made me really interested in the piano. Now she's my violin teacher, and she has really helped with my technique. Nita was also an amazing teacher. I really enjoyed having her. She taught me how to sight read music and always gave me stickers when I did good. Whenever she was coming, I was always excited because her amazing and sweet personality encouraged me to try harder. She taught me for a while, and I miss having her. Melanie is my teacher now, and she's amazing as well. Melanie has helped me with learning complicated songs and told me to not give up on the song when it's really hard. She even made me a nice treat for my birthday and always helps me improve in my piano. I'm happy she is my current teacher in piano. All three of these amazing teachers have really helped me and inspired me to keep playing music."
We're so proud of Karina's progress and hard work, and we hope her story inspires other students who might be thinking of tackling multiple instruments but aren't sure about taking the leap. We hope Karina's path shows you how learning multiple instruments can make you better at both, and how a passion for music can take you to so many places.
Congratulations, Karina!