By Morgan Ann Minyard, LPMT, MT-BC, Music Therapist at Metro Music Makers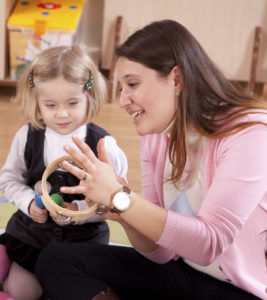 In my previous blog, I highlighted how beneficial music therapy can be. One of the areas I mentioned was autism spectrum disorder (ASD). In this article, I'll further explore the relationship between music therapy and ASD.
What is Autism Spectrum Disorder?
ASD refers to a wide variety of conditions where those on the spectrum have difficulties with impulsivity, socialization, and communication skills. Scientists are investigating a number of potential environmental and genetic influences, though a clear cause has not yet been identified.
Music and ASD
Music therapy is a common treatment modality for autism spectrum disorders. Music therapy is utilized to effect changes in behavior, as well as aid in facilitating the development of  skills, such as improving speech and language development, reducing impulsivity, improving emotional coping skills, and increasing focus. Music is particularly effective for this population, as it allows the client to communicate, be creative, and learn efficiently.
As stated in my previous article, music therapy caters to the individualized treatment goals of the client, and that plan is implemented during each session. The therapist applies a series of music-based activities with specific objectives and goals designed for the child's treatment plan, such as facilitating a rhythm stick activity to aid in the improvement of impulsivity. For instance, during a rhythm stick activity, the child will imitate the therapist's movements and rhythms by utilizing rhythm sticks. The possibilities are endless.
Benefits
Music therapy has the ability to benefit a child with autism in several distinct ways. For example, music therapy can stimulate individuals in order to reduce inappropriate social behavior, as well as increase participation and attention-span during particular activities. Below is a list of other positive outcomes that music therapy is capable of facilitating:
Improving social skills

Reducing impulsivity

Improving coordination, balance, fine and gross motor skills, and movement

Increasing focus and attention span

Overall, music is a non-threatening and adaptable modality; therefore, it works as the perfect medium to meet individuals with autism where they can grow in an efficient and fun way.
Contact Info
If you feel that this may be a beneficial service, here is our contact information below:
Sara Longwell, LPMT, MT-BC, Director of Music Therapy
Email: saramt@metromusicmakers.com
Office: 678-637-729
 https://www.metromusicmakers.com/music-therapy-program/our-music-therapists
Resources
AMTA (2008). Autism Spectrum Disorders: Music Therapy Research and Evidenced-Based Practice Support.  Silver Spring, MD: AMTA.
American Music Therapy Association (AMTA)