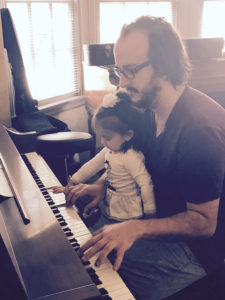 1) What do you teach at Metro Music Makers?
I teach guitar, piano, bass, ukulele, mandolin and banjo.
2) Do you play any instruments beyond what you teach?
I am a vocalist, but not trained like many of the teachers at MMM. I dabble in a lot of different instruments. If it makes a noise, I'll try and play it.
3) If you could only hear one song on repeat the rest of your life, what would it be, and why?
One song?? Oh boy, that's tough. I'm gonna go with "Badman's Song" by Tears for Fears. Don't know it? Then go listen to it!
4) What is the best part about teaching?
There's a sense of accomplishment for me when I perfect a new piece, play a great show, write a new song, succeed with my instrument. To be able to help my students feel that, it's amazing. Plus I get to take a guitar to work with me every day!
5) Do you play or sing somewhere regularly?
I gig several times a month all over Atlanta and the Southeast as a solo artist and with bands. Dates are at www.markgrundhoefer.com. Mostly I'm focused on my original music, and I released my second solo album in January. It's on iTunes and Spotify and all those digital streaming services.
6) If you could snap your fingers and get your students to do one thing, what would it be?
Every student (and even we teachers) goes through phases where they don't love to play and practice. It's during those times we are too busy, frustrated, or uninterested that I wish I could snap my fingers and help my student find the joy. Even the joy in the struggle. There's nothing better than overcoming an obstacle and reaching a goal.
7) If you hadn't become a career musician, what other career would you have chosen?
This is a tough one. I've never done anything other than play music. I busked on the street when I was 14. I played in bands and did gigs to get through high school and college. I started teaching when I was 19. I do have an idea for a live music venue/pizza place. It's a goldmine. Investors??
8) What's one fun or random fact about you that might surprise us?
After college, my wife and I decided to move to Los Angeles, pretty much on a whim. A month later, we packed up my mini van and drove the entire length of I-10 from Florida to California. It was scary. We didn't have a place to live, no friends, no family, no jobs, and a car full of guitars and clothes. We eventually found a small studio apartment off Hollywood Boulevard, and I got a great teaching job and started working in the music industry. It was a crazy adventure that lasted almost 10 years before we decided to move to Atlanta.