Contributed by: Sara Longwell
Do you have a young child who has expressed interest in playing an instrument? Do you have an older child who already takes lessons, and now you're considering starting lessons for a younger sibling? Or maybe it's been your dream from the beginning to give your child music lessons and you're wondering if they're ready yet. The big question is, how old do they have to be to start lessons?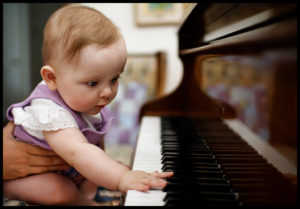 We usually recommend beginning instrument lessons at age 5. Here's why:
This is an age where several crucial skills and abilities come together to make for better learning. They develop better fine motor skills, are better at identifying and understanding characteristics (pitch, tempo, patterns, melodies, etc.) of the music that they hear, and typically begin developing a strong desire to please adults, follow the rules, and do things the "right" way.  You can read more about this in an earlier blog post I wrote as part of a series on what to expect from students at every age:
What to Expect From Your Young Student- Age 5
What if your child is 4 or younger, but you feel they are ahead of the curve and ready to start?
If your child has an older sibling who already takes lessons, you're in luck! Your current teacher may be able to help you decide if your younger child could really be ready to start lessons early. If your teacher tells you it's still too soon, most likely the teacher will still be there for you when they are ready to begin. If the teacher thinks that starting early is a possibility, consider adding on a short 15 minute lesson for the younger child before or after their older sibling's lesson. This shorter lesson may be more appropriate for a very young student's attention span, and can give the young student and teacher a chance to figure out if it's really time to begin lessons or not.
Be sure you have appropriate expectations of your young student.
Giving your child an early start with music has all kinds of proven cognitive, emotional, behavioral and academic benefits, so starting lessons at a young age can be a fantastic advantage. However, be sure that you have realistic expectations of a very young child learning an instrument. They're not likely to practice much without reminders from you, they may take two steps forward and one step back, and their excitement and interest may wax and wane a little at first. Be patient and know that you're planting seeds that will grow with the child as they get older and more mature.
Do you have questions about whether or not your child is ready to start lessons? Do you have a story about when you or your child started lessons? Share them in the comments below!