As we continue to feature some of our most outstanding students with our Student of the Month honors, we'd also like to occasionally introduce you to some of our teachers, who are always working hard both in and out of lessons. We'd like you to meet Caitlin Andrews.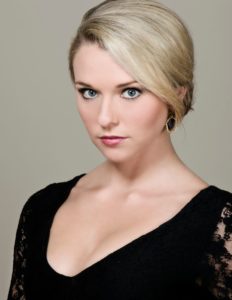 2014 was a big year for her, and we'd love to share some of her accomplishments with you. Caitlin kicked off 2014 singing with the Savannah Philharmonic for their holiday pops concert. She also sang the role of Blonda in Capitol City Opera's production of Mozart's "The Abduction From the Seraglio." Her big adventure of the year? She spent three weeks in China performing Broadway classics as a featured soloist with an orchestra. She also won the Metropolitan Opera National Council auditions for Georgia, and we are so proud of this accomplishment. She'll be going on in February of this year to compete at Spivey Hall in the Southeast Regional Competition.
But, Caitlin isn't just a classically trained performer of opera and musical theater.  There's another side of Caitlin's musical life in which she's just as gifted and recognized. She's also a gifted singer/songwriter and performs her own original songs to great acclaim. She recently performed and recorded songs for Sundance Channel's television show "Red Road" which will air in 2015.  And if that's not enough for you, she was a top-five finalist on Lucky Dog Studio's Unsigned Talent Contest, for her original song, "Poison," which she recorded and was featured on their top-five finalist CD. Want to hear it? We thought you might. Check it out here:
We are extremely proud to have Caitlin teaching with us here at Metro Music Makers. We hope you've enjoyed learning a little more about her recent accomplishments, and we look forward to introducing more of our teachers to you in the future!