2020 Virtual Camps and Classes
The summer must go on! We're excited to announce our 2020 VIRTUAL summer camps and classes. We look forward to making it a musical summer with you!
Dates: Thursdays in June and July (except the week of July 4)
Time: 3:00 p.m. – 4:00 p.m. EDT
Fee: $200
Location: Online
Students will focus on the essentials of songwriting: lyrics, melody, chord progressions and arrangement. During the final class, students will present an original song they wrote during the summer.
Camp Instructor: J.T. Lee
Email: info@metromusicmakers.com
Dates: Tuesdays in June and July (except the week of July 4)
Time: 6:30 p.m. – 7:30 p.m. EDT
Fee: $200
Location: Online
Participants will learn how to produce a song this summer using their home recording interface. Whether you play guitar, piano, violin, sing or perform on any other instrument, you will have the ability to add real instruments to your composition. You will also learn how to use mix techniques, plugins, automation and other tools to finalize and export your music to share with the entire class on the last meeting date.
Camp Instructor: J.T. Lee
Email: info@metromusicmakers.com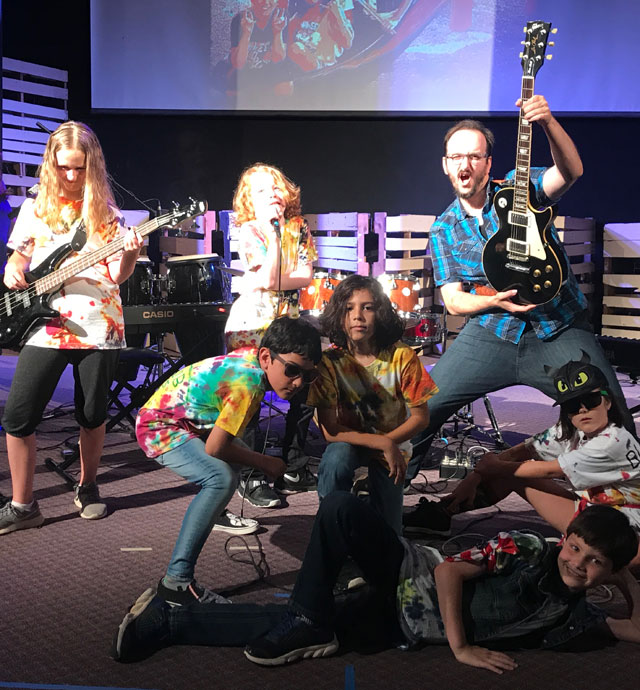 Dates: June 8-12, 2020 (daily)
Time: 1:00 p.m. – 2:30 p.m. EDT
Fee: $225 ($200 with code ROCKBAND2020)
Location: Online
Rock Band Camp is the coolest rock band experience online, featuring music approved by students and staff, and blending personalized learning and time to socialize with new friends. This year's online camp offers a balanced schedule, including 1.5 hours of live instruction and peer collaboration plus 30 minutes of self-paced practice and music video project development each day.
Your young rocker will experience all the magic of camp including games, challenges, and legendary MMM rock band traditions you can't find anywhere else, plus an interactive music video premiere for friends and family to take part in! Your camper will also learn the basics of performing in an online rock band, including virtual stage presence and how to work together. Campers will rehearse songs as a group and receive individual attention from the instructor.
All instruments, styles and experience levels are welcome. No experience is necessary. Everyone will need to have their instrument(s) readily available during each camp session.
Friends and family are invited to enjoy the music video premiere on Wednesday, June 17 at 1:00 p.m. EST.
Camp Instructor: Mark Grundhoefer
Email: info@metromusicmakers.com
Early Childhood Music Class
Dates: Tuesdays in June and July (starting June 9) 
Time: 10:00 a.m. – 10:30 a.m. EDT (infant – 3 years old)
10:35 a.m. – 11:05 a.m. EDT (4 – 6 years old)
Fee: $150 (per household*)
Location: Online
Join music therapists and music instructors Miss Kristen and Miss Sara on Zoom this summer for our first-ever live early childhood music class! These classes will be full of singing, dancing, and instrument playing with items you can find right in your home! Children and parents will enjoy a mix of traditional children's songs with a whole new set of children's songs that can be incorporated into the home. Many studies have shown how engaging your child in music on a regular basis can improve motor skills, cognitive function, speech and parent/child bond.
*Note: $150 per household per class. If you have children that fall into both age groups, we recommend signing up for the 10:35 a.m. class if a parent or older sibling is available to help the youngest child. If you sign up for both class times, you will be responsible to pay the household fee for each class.
Camp Instructors: Kristen Van Dyke and Sara Longwell
Email: info@metromusicmakers.com
More info on our Musical Theatre Camp coming soon!
---
Camp Instructors