written by Kristen Van Dyke, LPMT, MT-BC
Our music therapy department has the privilege of working with some of the best families and facilities in the Metro Atlanta area. We've created this blog series to highlight some of these amazing families and groups that we get to see on a weekly basis. As a reminder, music therapy is the clinical and evidence-based use of music interventions to accomplish individual goals within a therapeutic relationship by a music therapist. With in-home music lessons, the goals are musical: students learn how to play an instrument, read music, prepare for a performance, etc. However, with music therapy, the goals are non-musical in nature, but are achieved through the use of music. We hope you enjoy this spotlight on the Sidwell family.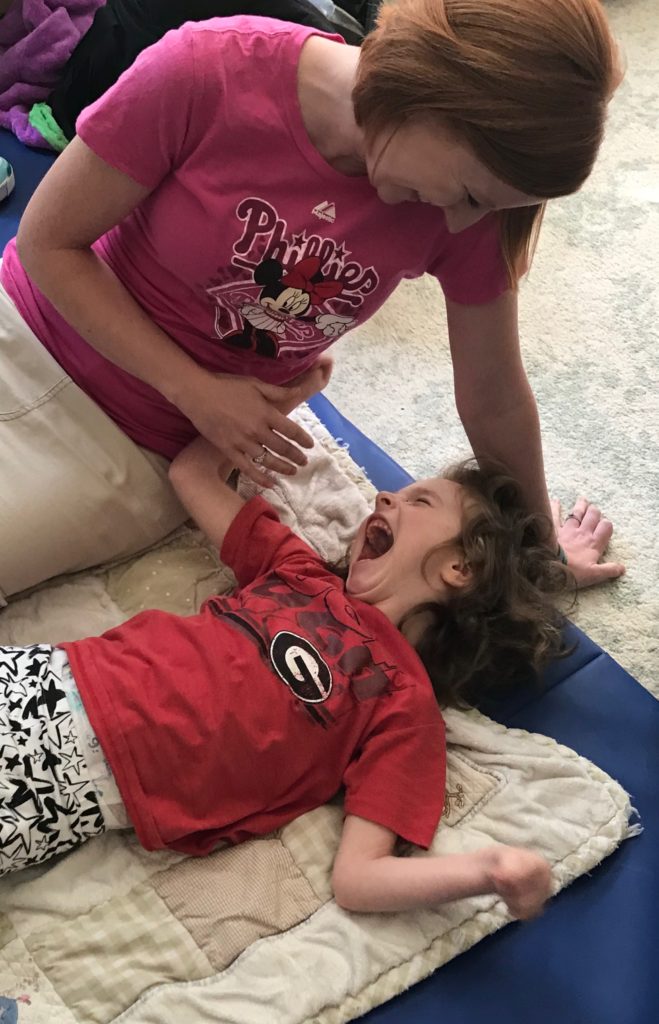 How long have you been receiving services from the music therapy department?
We've been using Metro Music Makers for four years!
Can you share a little bit about your child's diagnosis?
Elizabeth has spastic quad cerebral palsy. For Elizabeth, it means she can't crawl, walk or talk.  
How did you first hear about music therapy?
We were planning a birthday party for Elizabeth, and we knew she loved music. We wanted a music teacher to come sing at her party, so we contacted a few local companies. Sara from Metro Music Makers responded and did a great job. Afterward, we started weekly music therapy for Elizabeth.
What have been some of your favorite observations of your child in a music therapy session?
She participates by vocalizing sounds, holding instruments and just listening to Kristen strum her guitar. Music is very calming and soothing for her. She always has a happy and contented smile when she hears Kristen's voice, and because it's just the two of them she enjoys all the extra attention.
How would you describe the impact of music therapy in your child's life?
My husband and I believe that music therapy is beneficial for everyone, but especially beneficial for special needs children. Elizabeth is easily distracted at school, but during her special music therapy time with Kristen, we've noticed her eyes are on Kristen. Her overall attention span and focus are much better during MT. Also, Kristen is great about playing songs that Elizabeth hears when she's out and about. Her favorite song is by Taylor Swift, and Kristen sings that to her at every MT visit. I believe the continual repetition enhances Elizabeth's auditory and memory development.
Please contact our Music Therapy Growth Coordinator,  Kristen Van Dyke (kristenmt@metromusicmakers.com) for more information on music therapy.