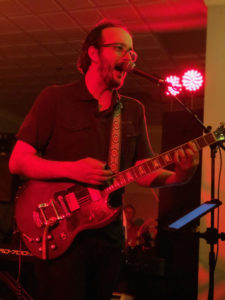 1. What do you teach at Metro Music Makers?
Guitar/Piano/Bass/Banjo/Mandolin/Ukulele/Songwriting/Music Production/Rock Band Camp
2. When did you first start taking music lessons?
I began piano lessons at six and guitar lessons at 12.
3. What musician inspires you the most, and why?
There are so many musicians that inspire me from Jeff Beck to Pat Metheny to Steve Howe, The Beatles, The Allman Bros, Steve Winwood, the list goes on. But my grandfather was and will always be a huge influence. He was a jazz pianist and sax/clarinet player who had a lot to do with the jazz scene in Birmingham, Alabama in the 1970s. He's even in the Jazz Hall of Fame.
4. What was your first concert?
Really? You're gonna make me admit this? Fine… New Kids on the Block.
5. What was your favorite concert, and why?
I used to live right near the Hollywood Bowl in California. An incredible bucket-list type of venue you have to see. Probably my favorite concerts were there: The Police, Rush, Sting with the LA Symphony, and possibly the best ever, Peter Gabriel.
6. What's the latest in your own music world?
This summer was super busy with music projects. I did a short film score. I have a new song coming out Aug 31 on a compilation album by Sonder House Records (iTunes/Spotify/Amazon/etc). I'm about halfway through writing and recording my third full-length solo album. And one of my songs just crossed over 230,000 streams on Spotify!
7. What's the latest in your world outside of music?
I'm a huge sports fan. If it's competitive, I'm in. And I'm completely obsessed with Atlanta United. I went to a ton of games this summer. Plus, college football is about to start. Go FSU!!