Written by Sara  R. Longwell, M.M. Ed, LPMT, MT-BC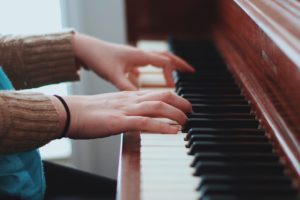 If you've never heard of adaptive lessons before, you may be wondering how an adaptive lesson looks different from a regular lesson. Even if your child is already enrolled in adaptive lessons, you may have noticed that some adaptive lessons don't look so out of the ordinary, and you may want to know what your music therapist is doing differently. Every adaptive teaching strategy will look different based on the student's individual needs, but there are some tools that music therapists frequently employ to meet students where they are.
Here are three examples of common strategies music therapists use in an adaptive lesson to help students of all abilities find success:
Simplifying or adapting the language they use. Many adaptive students have challenges around language processing, or the focus required to follow multi-step directions. In an adaptive lesson, the music therapist will tailor the way they communicate to the student's ability to process verbal language. The therapist might give simpler, single-step directions, speak more slowly, give the student more time to process after each instruction, or use less abstract language, idioms and metaphors, and speak in more concrete terms.

Adjusting the pace of each lesson. Some adaptive students benefit from a slower pace with fewer activities, perhaps with several activities in a row that reinforce the same concept in different ways. Others are more successful when there is greater variety in the activities, and the activities are shorter and change more often. The music therapist will also constantly assess and adjust the overall pace of learning to strike the right balance between challenging the student to grow, and ensuring that learning an instrument remains motivating and fun.

Using non-traditional teaching activities. In most traditional lessons, the student and the teacher often spend the lesson sitting side by side with their instrument, looking at a book or a sheet of music together. In an adaptive lesson, the music therapist may use other instruments, movement activities, games, worksheets, songs or other non-traditional tools to engage the student in the learning process. The therapist may even employ music therapy techniques, but with the goal of learning instrument skills, rather than addressing treatment goals.
These examples are general ones that could apply to many adaptive students, and there are many additional approaches a music therapist might employ in an adaptive lesson. Sometimes, music therapists even design brand new, unique strategies for an individual student. Through these tailored approaches, a music therapist can give almost any child access to the experience of learning an instrument, an invaluable and enriching experience that every child deserves to have access to.
For more information about adaptive lessons, email us at info@metromusicmakers.com, or call us at 678-637-7293.