January is Music Therapy Advocacy Month, so we thought this would be a great time to share some of the exciting things happening in our music therapy program at Metro Music Makers. We are excited to have recently added a new music therapist, Kristen Van Dyke, to our team of therapists. Our growing specialized staff allows us to reach everyone from babies to geriatric patients. Last week we shared about some of our younger clients; read on this week for some interesting information about the music therapy groups we lead at an assisted living facility. 
We are honored to work with patients at Mayfield Oaks Senior Living. Kristen was gracious to give us a glimpse into what these groups look like.
"Our groups at senior living centers normally consist of five to 10 of the residents that live at the facility. As with many music therapy groups, it is a diverse group in regard to abilities, diagnoses, motor skills, verbal skills and cognitive functioning. Aging can affect individuals in many different ways, but if there is one thing I know for sure, it is that music translates through the ages and brings people together. 
"With an assisted living population, groups are designed to build and maintain goals in areas such as cognition and memory, fine and gross motor skills, social skills and increased socialization, and emotional support and expression. Most of the sessions involve a combination of singing songs, listening to music, moving to music, songwriting, playing an instrument, all while discussing the theme of the day. I am a big theme person and I think it helps the residents to have a focus for the day. For example, we may do a group centered around Valentine's Day, Academy Award nominated songs, weather, etc. Within that theme, I incorporate all of the musical experiences mentioned above.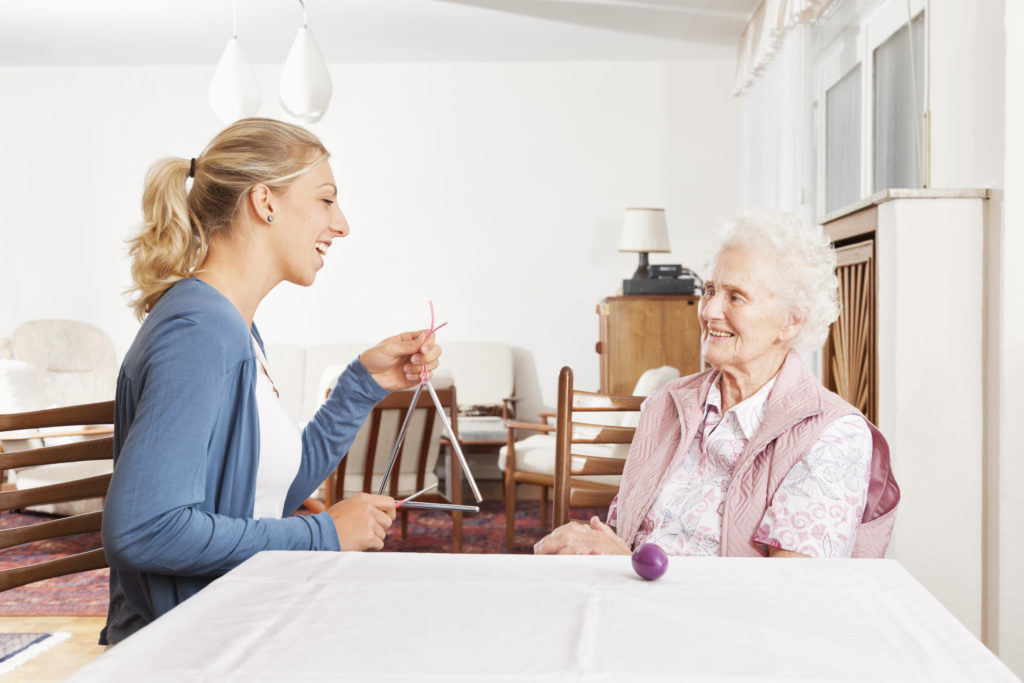 "I like to start off the session with a little check-in just to see how they are doing that particular day, and it also can give me a chance to quickly assess the group I have for that specific day. Then we sing a really fun song that gives them a chance to say what they woke up thinking about that morning. One of the most popular answers is wanting to go back to sleep! At this point in their life, seniors tend to often feel a loss of control, and music therapy groups can be a great way to give them choices and really hear their individual voices.
"I often take familiar songs such as "My Favorite Things," and after we sing through the original version, give them a chance to share with the group some of their favorite things. Some of the residents are able to communicate better than others, but we work as a group to help each other out. There is one resident who is just so sweet, but really cannot communicate well if I ask her a question. However, the last session we did some very classic love songs such as "Let Me Call You Sweetheart" and "By the Light of the Silvery Moon," and she sang every single one of those words to those songs. (More on the power of singing together coming up in a blog post!)
"I like to shape these groups with the goals in mind as mentioned above, but also with this population, I try to be in tune with what they may need in that moment. I always strive to have music therapy be a positive part of their day and one that they look forward to!"