Congratulations to our August Student of the Month, Hayley Newton!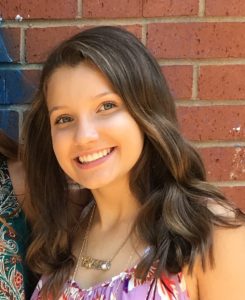 Hayley is a 13 year old piano student, who was nominated by Miss Melanie Latty. Miss Melanie says:
"Hayley is fearless, hard working, a team player, and passionate.  She jumps at every opportunity to perform in front of an audience. Among all her other extra curricular activities, she has shown her dedication to progressing as a musician by practicing. In lesson, I repeatedly find that she has put in the hours of practice and more.  Hayley puts forth her best foot and goes the extra mile by trying to understand the emotional content of the pieces she's working on in addition to all other musical elements. She learns about the pieces in it's entirety and applies herself. She is an overall excellent musician, student, and I'm proud to nominate her for her hard work and passion to perform."
Hayley really does have a huge variety of activities in her life in addition to piano. She participates in drama club, junior beta club, chorus, praise band, swim team and is the editor of her school's yearbook. She also enjoys singing, acting, musical theater, soccer, and photographing sunsets and nature.
Hayley says she loves lessons, because she loves "the positive atmosphere I come into each week." She recently participated in our Alpharetta Food Truck Festival event, and says "I  love getting to sing in front of other people.  I really like being on stage.  Most people don't feel comfortable on stage, but I really do."
She says that Skaters' Waltz is one of her favorite pieces to play and that she is currently learning 'Polka' from Orpheus, and Blue Danube Waltz by Johann Strauss.
Metro Music Makers is very proud of Hayley's achievements, and we hope you'll look for more stellar performances from her at future MMM events! We can't wait to see what she does next.