This year, we're introducing a brand new feature here at Metro Music Makers-a Student of the Month program! Each month, our teachers will nominate special students for this honor, and we'll select one special student to receive this honor and share a little more about them with you. So, without further ado, we'd like to introduce our very first Student of the Month for August 2014: Lexi Mellott!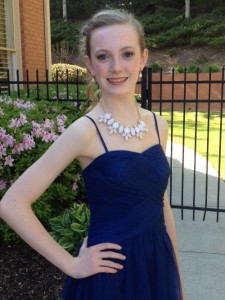 Lexi was nominated by her teacher, Miss Chelsea Smith. Chelsea says:
"Lexi is singing Eve, in the musical The Apple Tree, as a FRESHMAN in high school! I started teaching Lexi this Summer, and right from the beginning, she's been a hard worker. She learned all her vocal music that I assigned super quickly and currently has all her music memorized for the musical (before school starts). She has a great attitude and is always willing to do the "silly" that I ask of her without hesitation. Last week I had her running and singing through a maze of boxes! I love her can-do attitude and positive energy towards change. Lexi is a joy to work with and I can't wait to see what this school year holds for us."
Lexi is a natural performer who has always been at home on the stage. She's been dancing since the age of 3, and two years ago began participating in musical theater at her school.  She has also been helping to lead children's services at her church since the sixth grade, so she's no stranger to speaking, singing and dancing for an audience!
Lexi says, "This is my first experience taking voice lessons, and I have learned so much in the short time I have worked with Chelsea. I look forward to our lessons each week."
Metro Music Makers congratulates Lexi on being selected as our Student of the Month! We are proud to have hard-working, talented students like Lexi in our Metro Music Makers family.
We look forward to introducing you to another amazing student next month, when we announce our September 2014 Student of the Month!