Contributed By: Chelsea Nicole Smith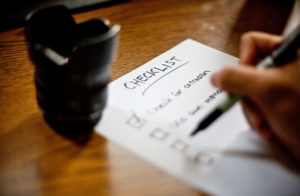 The fall semester can creep up on you! Fall is super good at creeping up on me too, so I've compiled a to-do/to-get list to keep myself from forgetting things or being caught off guard! My personal list is below. I have also noted some businesses in my area (the Northern suburbs of Metro Atlanta) that have been helpful with my car and a few places I've found the best deals for "teacher needs."
To-Do's: (Plan a To-Do DAY!)
Car Check up – I can get an oil change for about $30 at Kauffman Tire on Bethany Bend. I typically ask them to rotate my tires as well.
Car Detail and Wash – Just the other day I tried the new Autobell off Exit 10 on 400. I did their Manager's Special for about $30. I felt they did a pretty thorough job AND you can find coupons online.
Laminate Playing Cards – I get mine done at Staples and it cost me around $8. This is totally worth the price if you use flash cards; it keeps them usable year after year.
Update Online Memberships – I update and check my AAA membership status. AAA membership costs about $60 a year. I'm not the kind of person who wants to change a flat tire myself, and having this coverage insures that if something goes crazy wrong I don't have to do much arranging and can focus on calling my customers to cancel for that day. I'm all about less stress, friends!
Send Make-up Policy to Customers – Really though, it's good to make sure you've gotten this information out there. If questions ever arise, you can always point back to the document you've sent out. Email me at chelsea@metromusicmakers.com if you'd like a formatted copy of mine to base your own on.
Think up one new thing you can do this year –  It doesn't have to be big, just something to keep your lessons fresh. I've added "Go Fish" to my card games and I'm adding more colors to my writing box. I'm going to give the kids the option to pick which color they'd like for me to use in each lesson.
To-Get:
New Calendar –  to keep track of miles traveled.
New Pens or Pencils – I order a 20 pack of Pilot G-2 pens online and they last the whole year.
Goodies for Little Ones – Dollar Tree!
This list isn't crazy long, but it does cover some of the basic things that we may not think about until it's too late. I am super excited about working with my students this year and I hope to be on top of it from Day 1! Happy Teaching and Happy Learning!!
Note: If any other teachers out there have anything they feel should be on this list, but isn't… Comment away!